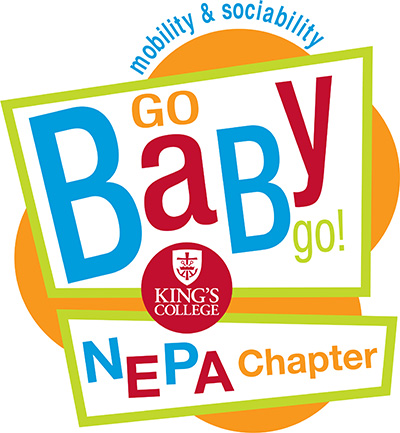 "Go Baby Go," is a program that modifies ride-on toy vehicles to help children with disabilities move around independently and socialize more easily with other children.
Dr. James Cole Galloway, a physical therapy professor from the University of Delaware, developed Go Baby Go to foster physical independence in children with disabilities and positively impact their physical, cognitive, and social development. The effort has now expanded to more than 40 communities around the world.
In Fall 2023, students and faculty from the King's College occupational therapy and engineering departments formed the Northeastern Pennsylvania Chapter of Go Baby Go. This multidisciplinary chapter is student-led with appointed faculty advisors and a licensed occupational therapist who has experience in assistive technology.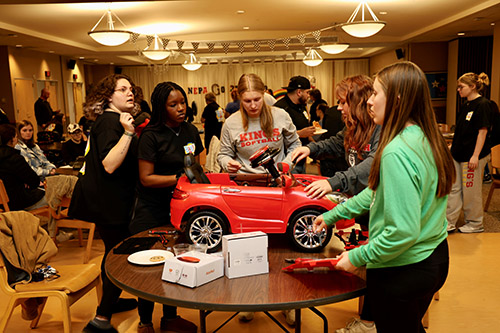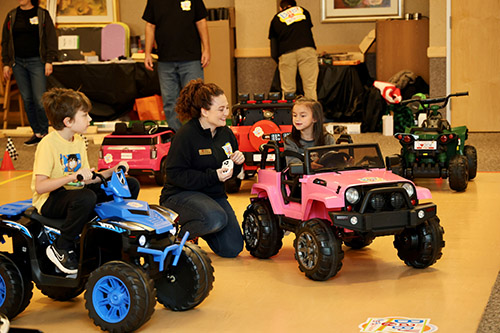 There are no commercially available devices for children with mobility issues and power wheelchairs are expensive and less accessible to younger children. Instead, Go Baby Go volunteers adjust a toy vehicle's power and steering so it can be controlled by children with limited movement. They also add padding, PVC pipes, and other materials to keep the children comfortable and upright while they ride.
This collaboration between health science professionals, engineers, community members, and students seeks to provide safe and effective mobility at low cost for children with disabilities in the local community. This program also provides meaningful education and research opportunities for families, students, and faculty.
NEPA Go Baby Go launched its first build day on Nov. 4, 2023, at Sheehy-Farmer Campus Center on the 3rd Floor. Volunteers modified 24 vehicles for use by children with disabilities during that time.
The first build day was made possible with a generous $20,000 donation from the Moses Taylor Foundation for the purchase of vehicles and modification materials.
How you can help
NEPA Go Baby Go is seeking volunteers from community and student groups throughout Northeastern Pennsylvania, as well as any children in need of mobility assistance. The team aims to host build days at least twice a year and child playgroups two to three times a semester.
If you are a community member or teacher looking for a rewarding and educational service project, please explore the resources below:
FAQ
Who is eligible to volunteer for NEPA Go Baby Go?

We are looking for volunteers from a variety of age groups with a passion for science and community service. No experience needed! Must be 14 years of age or older (we will allow 10-12 years old to help with parent supervision). We provide all materials, equipment, and tools.
How are monetary donations used?

All donations go to the purchases of prefabricated ride-on vehicles as well as the tools, padding, frames, and other materials used to alter the vehicles for use by children with disabilities. Generally, each vehicle costs $400, with an additional $150 cost, on average, for the materials used in the modifications.
What kinds of disabilities can these vehicles help overcome?

The project seeks to assist children with limited mobility resulting from arthrogryposis, muscular dystrophy, cerebral palsy, down syndrome, congenital heart defect and other conditions.

The goal is to help foster physical, cognitive, and social development in these children by giving them the ability to move independently and play with other children. Certified engineers and occupational therapists ensure each vehicle is safe and adapted to a child's unique needs.
How did the NEPA Go Baby Go chapter begin?

The project originated as part of a capstone project under King's student Erika Golik, MS OTR/L, who was exploring how to bring the Go Baby Go model to Northeastern Pennsylvania. The effort has since expanded with engineering student leads Daniel Garcia and Christian Chavey under the guidance of faculty mentors Jennifer Dessoye, EdD, OTD, OTR/L, CLA, Dr. Marie Patterson, OTD, OTR/L and Elizabeth A. Dixon, MS Ed., OTR/L.

To date, the project includes more than 40 faculty and students, including volunteers from engineering and medical science clubs on campus. A $20,000 donation from the Moses Taylor Foundation provided the tools, vehicles, and modification materials for the first build day event.
Contact Us
NEPA Go Baby Go

(570) 208-5900
Related Programs