Wilkes-Barre, Pa.—More than 300 students from 14 high schools throughout Northeastern Pennsylvania visited King's College today as part of a Pennsylvania Institute of Certified Public Accountants (PICPA) initiative that helps young adults explore accounting degrees and employment opportunities.
The PICPA series connects students with accounting professionals to discuss career pathways in public accounting, forensic accounting, tax accounting, financial planning, education, information technology, and consulting. Attending students also heard from current King's College accounting majors about their academic and internship experiences.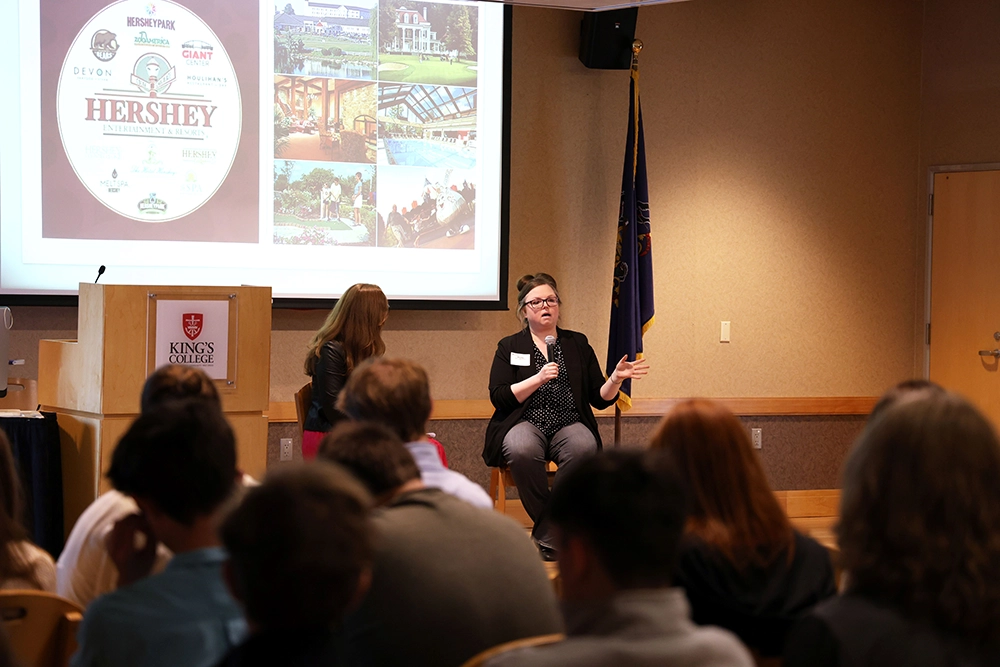 Workshops and panel discussions occurred throughout the morning at the College's McGowan School of Business and the Sheehy-Farmer Student Center. Speakers included King's College alumni Wendy McClintock '96, vice president and chief accounting officer at Hershey Entertainment & Resorts; Savannah Jablon '16, senior tax associate at CohnReznick LLP; Rebecca Kinzinger '20, senior associate at Kearney & Company; and Erich Olsen '22, forensics & integrity services staff at EY.
The College has been a PICPA Career Day site for more than 10 years.
"We are excited to welcome so many high school students to campus for this career series," said Dr. Tara Shawver, chair of the College's Kearney & Company Department of Accounting. "It's a testament to the hard work of everyone who organized this event to show these young minds that a high-demand and rewarding future in the accounting profession is well within reach."
Attending students came from Blue Mountain School District, Cedar Crest High School, Central Columbia School District, Crestwood School District, Forest City Regional School District, Hanover Area School District, Hazleton Area High School, Holy Cross High School, Holy Redeemer High School, Northwest Area School District, Tunkhannock Area School District, Wallenpaupack Area High School, Wilkes-Barre Area High School, and Wyoming Valley West School District.