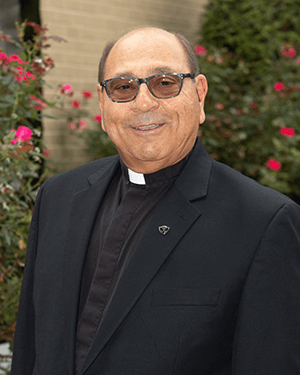 Rev. Anthony Grasso, C.S.C., from Boston, is professor of English and Campus Advisor for the Delta Epsilon Sigma honor society. Fr. Grasso also serves as the national chaplain of Delta Epsilon Sigma, the honor society for Catholic colleges and universities, and serves on the Northeast Regional Board of the Conference on Christianity and Literature. He teaches Core and literature courses from Effective Writing, to Introduction to Literature, Social Media, British Literature, and Urban Literature, to Poetry Writing Workshop. He enjoys reading any type of literature, listening to music, walking, and writing poetry. In 2014, Fr. Grasso received the Rosenn Award for Faculty Excellence. He also assists at local parishes, and lives at 185 N. Franklin St.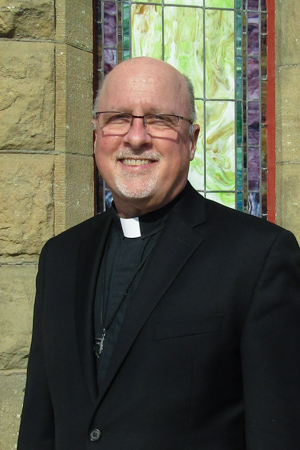 Rev. Daniel Issing, C.S.C., a native of College Park, Maryland, is Associate Professor of Theology at King's College. He holds a doctorate from the Graduate Theological Union in Berkeley, California. At King's since 2007, Fr. Issing primarily teaches courses in Christian ethics. A social ethicist by training, Fr. Issing specializes in Catholic social thought, particularly the contributive nature of the Catholic understanding of the common good and how persons are formed in becoming agents of the common good. Away from the college, Fr. Issing lectures on matters of ethics and church life, offers retreats, and provides spiritual direction.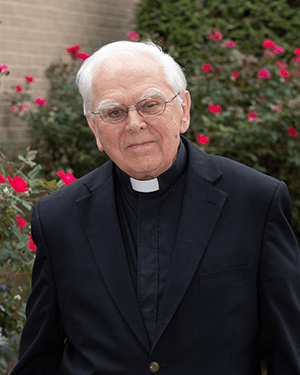 Rev. Charles Kociolek, C.S.C., from Jersey City, N.J., worked for an accounting firm and in several Holy Cross Brothers' high schools before coming to King's. He taught accounting at King's for many years. He currently serves as assistant director of academic advisement and as a special assistant to the president. He lives at Moreau Court.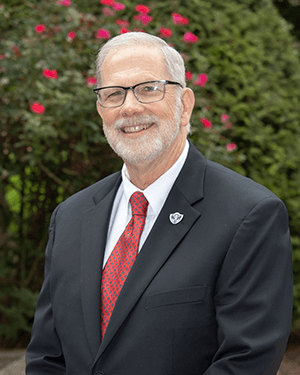 Brother Stephen J. LaMendola, C.S.C., is a native New Yorker. As a member of the Education Department, he is a college supervisor of student teachers and is the college's liaison to its early childhood centers. As Outreach Coordinator for the Education Department, Brother Stephen also serves as the Director of Student Teaching and is the College's Liaison to the King's Early Childhood Learning Center. He also is the Director of the King's-Flood After School Program. Previously he taught and administered at Holy Cross schools in New York and Delaware. Br. Stephen is a member of the Moreau Province and resides at Moreau Court.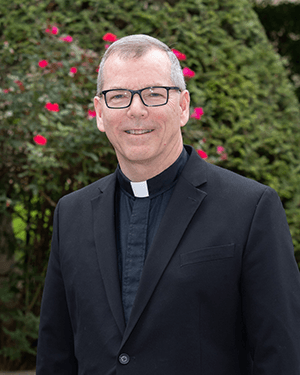 Fr. Thomas Looney, C.S.C., born in Brooklyn and raised in Otisville, NY, previously served at King's as a member and chair of the Theology Department. He presently serves as the college president. He is a member of the board of directors of Stonehill College, Renew International, and the Fr. Peyton Centre in Attymass, Co. Mayo, Ireland. He enjoys facilitating retreats and giving days of recollection. Fr. Tom resides at 185 North Franklin Street.
Fr. Russ McDougall, CSC, originally from northwest Indiana, received his B.A. and M.Div. from Notre Dame University, and S.S.L. from the Pontifical Biblical Institute in Rome. He made final vows in the Congregation of Holy Cross in 1990 and was ordained a priest in 1991. Fr. Russ has served in parochial ministry at Holy Cross Parish in Nairobi, Kenya; as formation director, academic dean and lecturer in Old Testament at the Queen of Apostles Philosophy Centre in Jinja, Uganda; and most recently as rector of the Tantur Ecumenical Institute in Jerusalem. Currently he serves as campus minister and lecturer in theology at King's College and as superior of the local Holy Cross community at King's.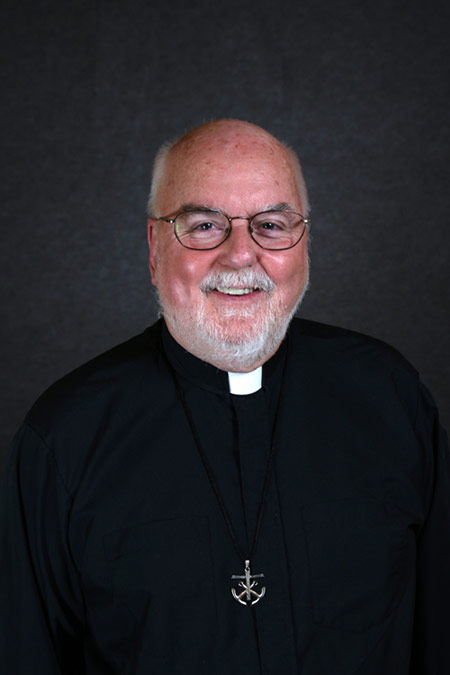 Fr. Thomas O'Hara, a native of Hazleton, PA graduated from King's in 1971, and was ordained a priest of the Congregation of Holy Cross in 1978. Following graduate studies at American University, Fr. O'Hara taught in the Political Science Department, and served as an administrator at King's prior to his appointment as the eight president of King's. At the conclusion of his 12-year presidency, he was elected to the Office of Provincial Superior of the United States Province of Priests and Brothers, a post he held for 6 years. He served in Bangladesh and Uganda as well. Fr. O'Hara returned to King's in the Fall of 2019 and serves as an Academic Advisor. He resides at Moreau Court.
Fr. Brogan Ryan, C.S.C., a native of Columbus, Ohio, is the Director of Campus Ministry and College Chaplain. Prior to serving at Kings, Fr. Brogan served at the University of Notre Dame as the Rector of Keough Hall and worked as a middle school teacher and public accountant before entering Holy Cross."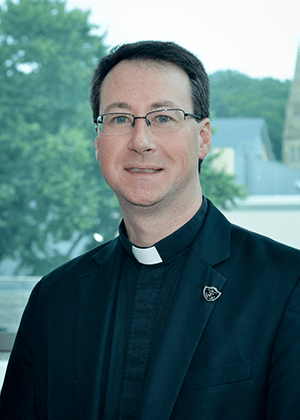 Fr. Michael Wurtz, C.S.C., was ordained to the priesthood in 2004, and ministered at Holy Cross and St. Stanislaus Parish in S. Bend before pursuing a Masters in Liturgical Studies at St. John's, Collegeville (MN) and then a Doctorate in Sacred Liturgy at the Pontifical Atheneum of Sant'Anselmo in Rome.  A former doctoral fellow at the McGrath Institute for Church Life at the University of Notre Dame, Fr. Wurtz advised at the Notre Dame Center for Liturgy and lectured on rites of healing and the relationship between liturgy and priestly formation.  He currently serves at King's as a Visiting Assistant Professor of Theology.  
HOLY CROSS RELIGIOUS IN OTHER AREA MINISTRIES
Rev. Robert Lozinski, C.S.C. , a former campus chaplain at King's, has been involved in parish ministry in several places. After completing a term as pastor at our Holy Cross Community's parish in Bennington , Vt. , Fr. Bob is now the pastor of St. Michael's Byzantine Catholic Church in Dunmore, Pa.

Fr. Jarrod Waugh, C.S.C., originally from Edna, Kansas, and attended Notre Dame, where he first met the Congregation of Holy Cross and felt called to religious life. He took Final Vows in 2012 and was ordained a priest in 2013. He served at a parish in South Bend, as a Vocation Director, and in King's Campus Ministry. He is presently the Administrator of Holy Family Parish in Luzerne. PA. He lives with the Holy Cross Community on North Franklin St.