Contact Us
Mailing Address: 133 N. River Street Wilkes Barre, PA 18711
School Certifying Official: Kristen Lemoncelli
Email: kristenlemoncelli@kings.edu
Phone:  570-208-5900 ext. 5472
Fax: 570-208-6021
Whether you are actively serving in the military, are in the reserves, are a veteran or a military family member, King's College is committed to supporting you and your educational goals.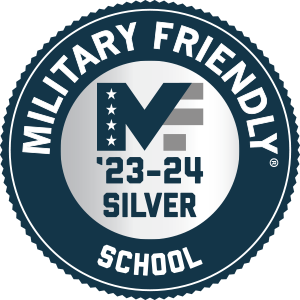 King's College was designated a "Military Friendly Silver School" by VIQTORY.
Getting Started
After you have applied for admission and have been accepted to King's College, review this checklist to make sure you have taken all the steps that will allow you to take full advantage of your veteran's education benefits.
Applications and forms for veteran's education benefits can be completed here.
Yellow Ribbon Program
King's College actively participates in The Yellow Ribbon GI Education Enhancement Program, a provision of the Post-9/11 Veterans Educational Assistance Act of 2008. This program allows institutions of higher learning to voluntarily enter into an agreement with VA to fund tuition expenses that exceed the annual maximum cap for private institutions.
Who is eligible?
Only veterans entitled to the maximum benefit rate, as determined by service requirements, or their designated transferees may receive this funding. Active duty service members and their spouses are not eligible for this program. Child transferees of active duty service members may be eligible if the service member is qualified at the 100 percent rate.
King's College participates in the Yellow Ribbon Program. You do not have to apply for the Yellow Ribbon Program. If you are eligible, you will be identified internally and evaluated by the college's SCO and the Office of Financial Aid.
FAQs About the Yellow Ribbon Program are available here.
Additional Resources
VA Student Hotline: 1-888-442-4551
Department of Veterans Affairs: www.va.gov
Veterans Crisis Hotline: 1-800-273-8255