Major Description
Students selecting a major in Accounting will be awarded a Bachelor of Science in Business Administration (B.S.B.A.) degree under the program of study offered by the William G. McGowan School of Business from the Kearney & Company Department of Accounting. A minor in Accounting is also available as a part of the William G. McGowan School of Business program of study.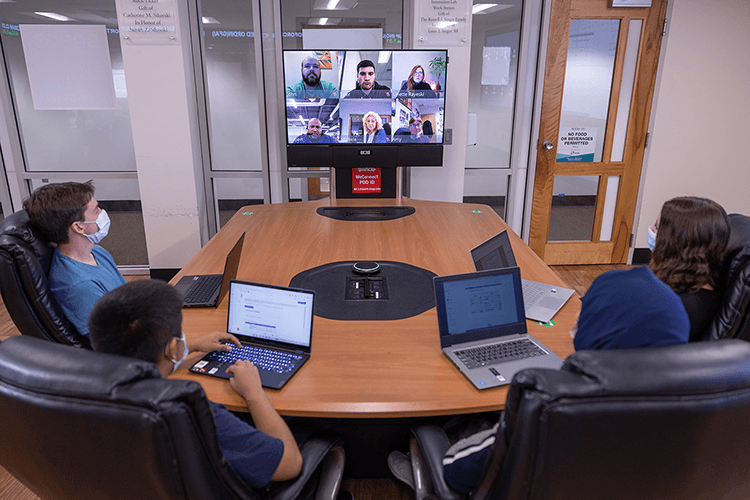 King's accounting majors learn the skills necessary for success in a dynamic global business environment. Built upon the King's College innovative student learning assessment program, competency based course content focus learning upon the liberal learning and technical competencies which accounting professionals use as part of their contribution to the success of business enterprise. The college core curriculum, business foundation courses, and major courses emphasize an awareness of personal values, character development, and an understanding of liberal learning competencies applied in a business context, such as communication, analytical thinking, team building, and strategic planning.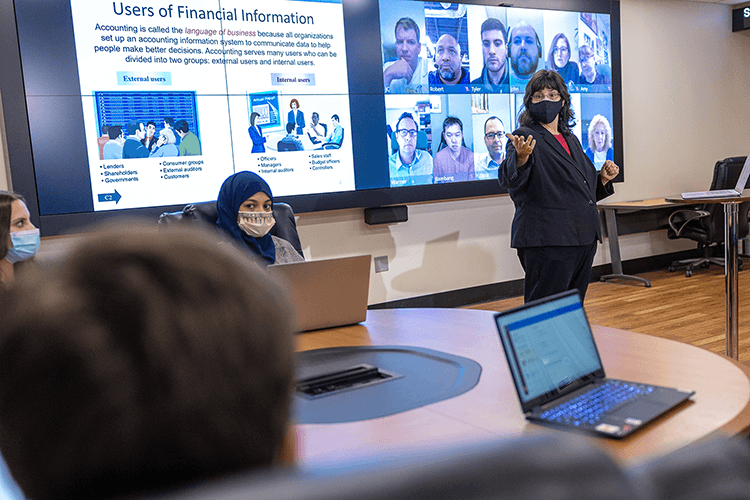 Preparation for entry into the accounting profession has moved beyond the traditional auditing and tax functions to integrating knowledge of accounting in general consulting, and technology management roles. This education reflects the emerging career paths, which encompass business advisors, litigation support specialists, technology consultants, financial/estate planners, and forensic accounting. Accounting majors are encouraged to sample widely in their selection of Core courses and from the elective offerings of the other divisions of the College with the conviction that an effective foundation for life-long learning and continuing professional development, in any career, is built upon the ideas and ideals of a liberal education. The emphasis on early interaction in engaging students to focus on the career development and planning process allows students the time and opportunity to explore career options; identify academic majors and academic minors that fit their interest's values and abilities; engage in resume building experiences; and develop effective employment search skills which will result in successful placement upon graduation.
Curriculum
The curriculum in accounting provides the technical preparation for students who want to qualify as Certified Public Accountants (CPA's), Certified Management Accountants (CMA's) or Certified Internal Auditors (CIA's). Changes to the state requirements for attaining the designation of a Certified Public Accountant (CPA) in New Jersey, New York, Pennsylvania, and most other states require applicants to attain 150 credit hours of education in order to receive a CPA license to practice in those states. King's College has designed a cost effective program of study designed to assist the student in attaining the necessary 150 credit hours of education in their four years of undergraduate study at King's College. Under this major, Accounting students may elect to take 18 credits per semester during their junior and senior years. Students pursuing these additional 3 credit hours per semester during the third and fourth years of study will have attained 135 credit hours of education; these additional credits are included in the students' regular tuition and can be taken without any overload fee. Students pursuing these additional credits may do so in any number of ways including selecting a minor from all the available majors within the William G. McGowan School of Business or the College of Arts and Sciences. Students who wish to attain the 150 credit hours of education within the four years of their education at King's will take 15 credits of summer semester classes in addition to the 135 credits attained during their eight semesters at King's. Summer semester classes require an overload fee.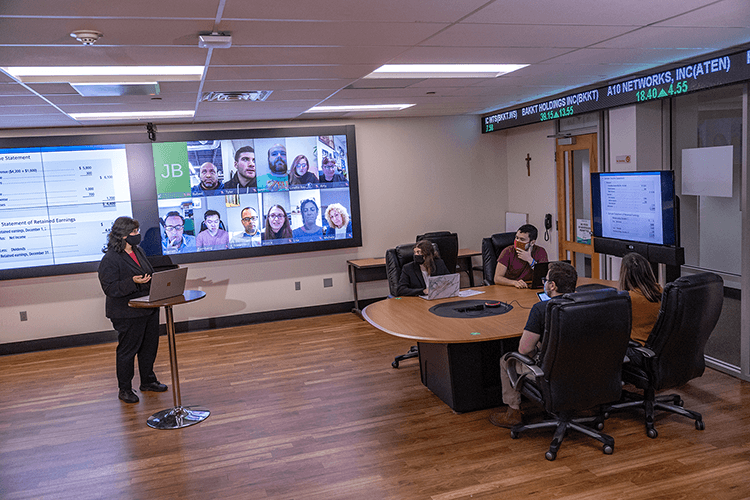 To continue in the King's College Accounting major (i.e., enroll in ACCT 301 - Intermediate Accounting I), a student must have earned a minimum 2.0 G.P.A. in Introduction to Financial Accounting II. This requirement also applies to transfer students and to those students pursuing an Accounting Minor. With written permission from the chairperson, accounting majors may participate in an accounting internship for which a maximum of six credit house may be granted per semester.
Degrees Offered from the Kearney & Company Department of Accounting
Bachelor of Science in Business Administration (B.S.B.A.) with major in Accounting degree
Accounting Minor
Forensic Accounting Minor