Earn your B.S. in Exercise Science and your M.S. in Athletic Training in five years
93%
Overall pass rate
on BOC exams
100%
Placement rate
for Graduates
$61,998
National average
salary*
Join the exciting and growing field of Athletic Trainers. The 3+2 Master of Science in Athletic Training (MSAT) Program is an exciting, innovative, accelerated program that allows students to obtain a Bachelor of Science in Exercise Science and a Master of Science in Athletic Training in five years.
The 3+2 Master of Science in Athletic Training (MSAT) Program is divided into two components:
1. Pre-Professional Phase: undergraduate component, Years 1, 2, and 3:
Students in the Pre-Professional Phase will have the major of Exercise Science – Pre-Athletic Training Track.
These students will enter the Professional Phase upon successful completion of Year 3 and upon meeting all requirements for entry into the Professional Phase.
2. Professional Phase: graduate component, Years 4 and 5:
These students will earn a Bachelor of Science in Exercise Science degree upon successful completion of Year 4.
These students will earn a Master of Science in Athletic Training degree upon successful completion of Year 5.
Playing for a professional sports team tops the list of many dream jobs, but in reality, those opportunities are few and far between. Many turn their passion for the game into a career as an athletic trainer, helping to improve sports performance by preventing and treating injuries. Whether it's a high school football player who needs his ankle taped or a professional basketball player with a chronic wrist injury, athletic trainers help prevent future injuries and heal existing ones.
Athletic Trainers (also known as ATs) are unique health care providers who specialize in the prevention, diagnosis, and intervention of emergency, acute, and chronic medical conditions involving impairment, functional limitations, and disabilities. In collaboration with physicians and other health team members, athletic trainers make decisions about how to optimize activity and participation of their patients and clients.
A strong science background and technical abilities are vital for athletic trainers, but other personality traits are critical as well. A good athletic trainer has strong observational abilities to detect and monitor potential injuries. They are able to remain calm and communicate effectively when athletes get hurt. And they always put the patient first, using their knowledge and expertise to ensure the right care is given to stay healthy and mobile.
Providing Care to a World that Needs You
Athletic trainers work with recreational, amateur, and professional athletes to prevent injuries and provide strength, conditioning, fitness, and performance enhancement. Their work takes place in a variety of settings besides schools and professional sports teams. They may be employed by hospitals, sports medicine and physical therapy clinics, performing arts organizations (dancers, musicians), military and governmental agencies, and even industrial settings where employees have physically demanding jobs.
Employment opportunities in the field of Athletic Training look extremely positive. The U.S. Bureau of Labor Statistics is predicting a faster than average growth through 2026. Will it last beyond that? Most likely, as athletic trainers play an increasingly important role in the management, prevention and rehabilitation of injured athletes. Kids are training earlier and harder than ever before and there are growing concerns about how injuries can affect the very young. High school and collegiate athletes are under increasing pressure to improve performance, leading to chronic injuries, while middle-aged and elderly people are more active than ever.  All of which is creating a growing demand for the services of qualified athletic trainers across all age groups. 
Professional Preparation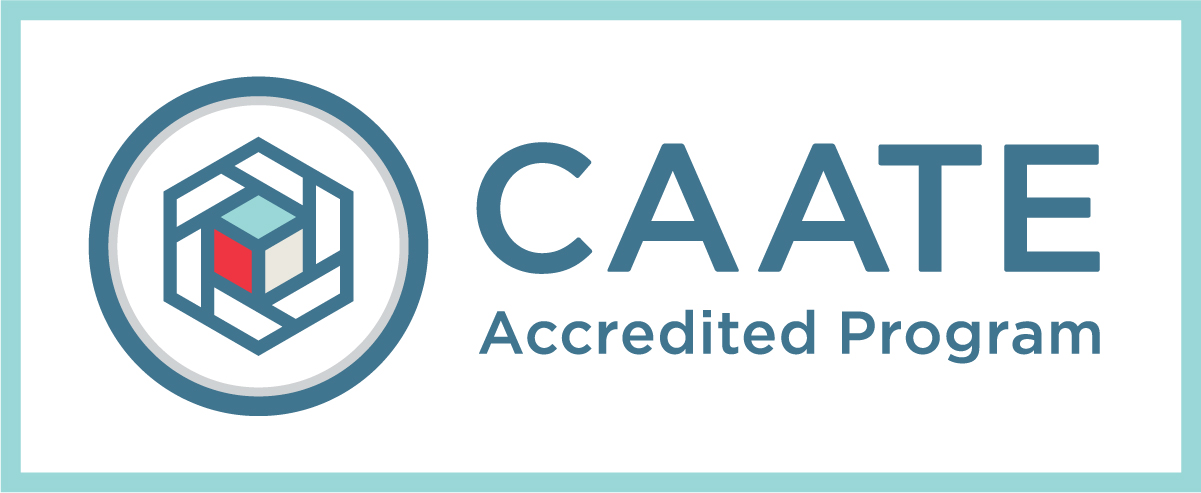 The King's College Master of Science in Athletic Training Program is accredited by the Commission on Accreditation of Athletic Training Education (CAATE).
Athletic trainers are considered to be integral members of the interprofessional healthcare team, serving as active practitioners that make decisions about treatments, interventions and return to activity for their patients. To better reflect the level of expertise required of an athletic trainer, a new set of standards has been put in place by the AT Strategic Alliance (BOC, CAATE, NATA and NATA Foundation). By the year 2022, athletic trainers must obtain a master's degree from an accredited program before being eligible to sit for the Board of Certification Examination and become credentialed by the state in which they practice.
What Makes our MSAT Program Stand Out?
Our program combines hands-on clinical experiences, evidence-based practice and intensive coursework to prepare students for their field. Among the highlights are:
Student's athletic training techniques are developed through distinctive coursework that is supported by the latest theories and research, such as Advanced Human Anatomy (with on-campus cadaver dissection); Head, Neck, and Spine for cutting-edge techniques in evaluation, diagnosis and treatment; Advanced Therapeutic Interventions for innovative and sophisticated therapies and two Evidence-Based Medicine courses for high-level research and applications.
Classroom knowledge is integrated with clinical education, including 16 weeks of immersive experiences where students gain significant hands-on patient-care practice through clinical rotations in a variety of settings. Students gain real-world experience in a variety of settings including local school districts, hospitals, college or professional sports teams. If they choose, they can even take part in global opportunities such as the International Sports Science Medical Conference.
The Alley Center for Health Sciences is a dedicated facility that provides outstanding academic, lab and medical facilities. Our state-of-the art modern exercise science lab offers cutting-edge equipment and technology including full VO2Max capabilities, Bioelectrical Impedance body assessment, 3-camera gait analysis abilities, ECGs, DXA Scan and Tensiomyography. A full cadaver anatomy lab and patient simulators give our students plenty of opportunities to practice in a clinical setting.
A dedicated and highly qualified faculty that is actively involved in athletic training organizations provides contemporary expertise and clinical experience. With 10 full-time faculty and staff in the Department of Sports Medicine and 10 full-time Athletic Trainers, our students enjoy a highly personalized educational experience in which they learn both the scientific and interpersonal skills needed to succeed in this career.
Our interprofessional educational experience allows students from multiple healthcare disciplines, including Physician Assistant and Nursing, to study and learn together. Learning to collaborate effectively creates well-rounded professionals who are prepared for today's team-based healthcare environment.
In addition to the technical skills, knowledge, and abilities required to be an athletic trainer, we help our students evolve into ethical citizens that serve the common good. Service and community are cornerstones of our program and we encourage students to engage in volunteer medical services and community health programs. Respect and advocacy for the dignity of every person is a core component of our curriculum. We practice and develop leadership skills to ensure the next generation of athletic trainers contribute to the betterment of society.
A supportive environment in which students are encouraged to work with faculty or on their own to develop research and theories, many of which have been presented both as posters and orally at numerous state (PATS), regional (EATA), and national (NATA) settings.
Outstanding preparation for the national certification exam for athletic training, with our BOC first time and overall pass rates both exceeding the national average. When it comes time to finding a job, you can expect an edge from our well-connected faculty who hold leadership positions in AT organizations and the community. Having been accredited since 2001, our program has strong connections to health care providers and organizations, including the Geisinger Health System and Lehigh Valley Health Network. We have a 100% placement rate for graduates who are working at local high schools, professional organizations and hospital systems, in addition to organizations such as Pennsylvania Power & Light (PP&L), Geisinger Health Systems, United States Olympic & Paralympic Committee, NFL, NCAA Division I colleges and universities and Major League Soccer.
*(source: National Athletic Trainer's Association Salary Survey 2021)