Paul Lamore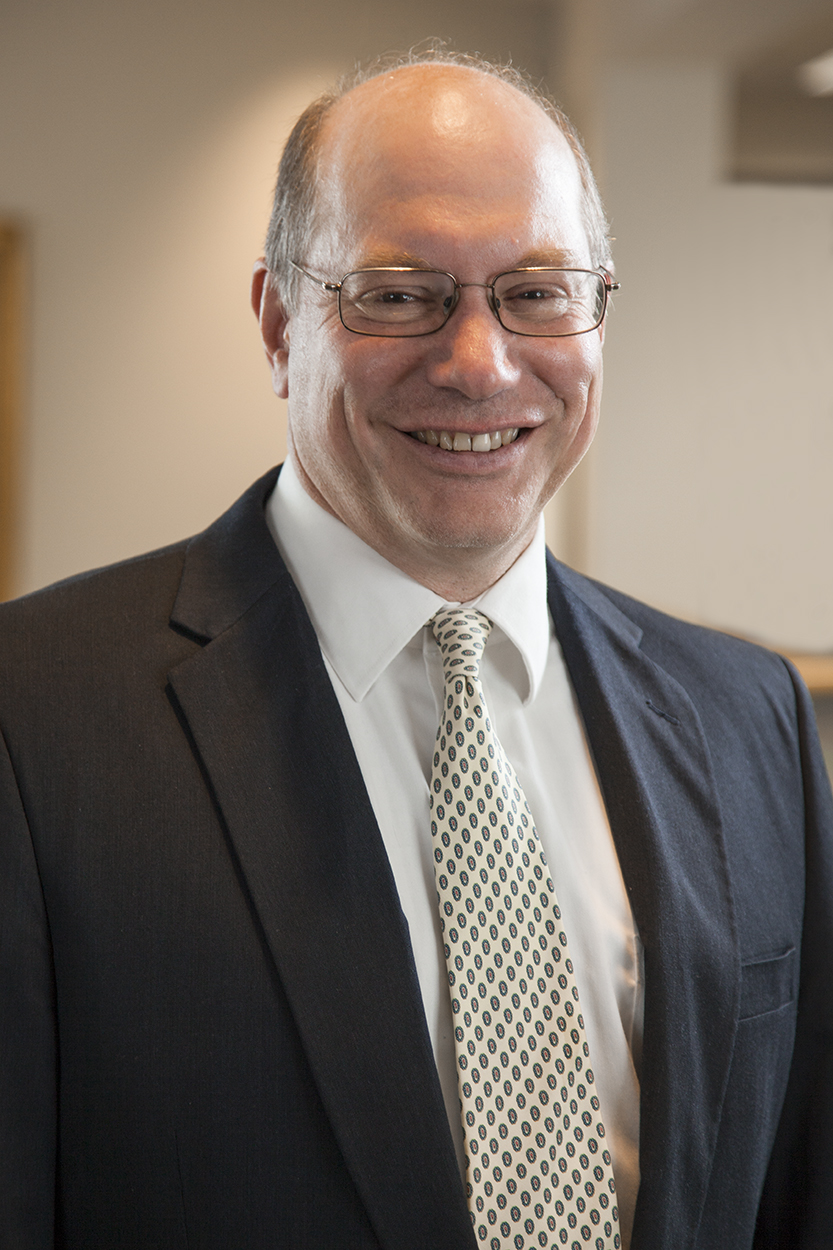 Dr. Paul Lamore
Chairperson, Engineering Department
Professor of Engineering and Business & Management
e-mail: paullamore@kings.edu
Dr. Paul R. Lamore is a Professor of Engineering and Business & Management, and chairperson of the Engineering Department. He started teaching at King's College in 2005, and taught for 4 years at Providence College prior to joining King's. He has 20 years of industry experience, including electrical engineering and engineering management positions at Knolls Atomic Power Laboratory, Brown & Sharp, and Texas Instruments. He spent 10 years at Sharplan/Surgilase, designing and developing new applications for medical lasers. His responsibilities also included supply chain and operations management, as well as technical marketing and product line management. He research interests include innovation management and new product development. He received his Ph.D. in Industrial and Systems Engineering, with a concentration in Engineering Management, from the University of Alabama in Huntsville. He holds a M.B.A. from Providence College, a M.S. in Electrical Engineering from Union College, a B.S. in Electrical Engineering from Washington University in St. Louis, and a B.S. in Physics from Providence College. 
Farhang Daneshmand
Dr. Farhang Daneshmand
Associate Professor of Mechanical Engineering
e-mail: farhangdaneshmand@kings.edu
Farhang Daneshmand, Associate Professor of Mechanical Engineering, earned his Ph.D. from Shiraz University and joined the Department of Engineering at King's College after ten years of teaching and research at McGill University. His main teaching and research interests are related to dynamics, vibrations and stability of nano- and bio-structures with and without Fluid-Structure Interaction (FSI). He has an extensive experience in developing advance computational methods including Finite Element Methods and Isogeometric Analysis (IGA). The results of his scientific researches have been published and cited many times (h-index=25). His engineering capabilities and research activities are of interest to energy-related industry and he has been working with oil and gas, hydropower plants and pipeline companies for (i) stability analysis of brine-strings used in solution-mined hydrocarbon storage caverns, (ii) design of hydro-mechanical equipment in power-plant projects, (iii) physical model tests of hydraulic structures. His innovative idea for development of a coupled simulation-optimization inverse modelling approach for groundwater pollution remediation systems was funded by FQRNT (Team Grant). He is also a member of Professional Engineers Ontario in Canada.
Ismail Haltas
Dr. Ismail Haltas
Assistant Professor of Civil Engineering
e-mail: ismailhaltas@kings.edu
Ismail Haltas, Assistant Professor of Civil Engineering, graduated from Middle East Technical University Ankara with a BS degree in Civil Engineering. He graduated from the University of California, Davis with MS and PhD degrees in Civil and Environmental Engineering in 2004 and 2006, respectively. After working as a Water Resources Engineer in Sacramento, California for four years, he started teaching in Civil Engineering Department of Zirve University in Turkey. During his five-year tenure at Zirve University, he conducted several research projects funded by National Research Agencies while teaching undergraduate and graduate level courses. Before joining to King's College, Dr. Haltas held a Senior Research Fellow post at Cranfield University, England for two years. He has held the Professional Engineer License in Civil Engineering in California since 2010. His expertise and research focus are flood hazard and risk modelling, scaling in hydraulic and hydrologic processes, and agent-based modelling of complex systems. He mainly teaches courses such as Fluid Mechanics, Dynamics, Hydraulics and Hydrology, Probability and Statistics, and Water Resources Engineering.
Gary Jordan
Dr. Gary Jordan
Assistant Professor of Civil Engineering
e-mail: garyjordan@kings.edu
Gary Jordan, Assistant Professor of Civil Engineering, received his PhD in Civil Engineering with an emphasis in Transportation Systems Engineering from the University at Buffalo in 2018. Dr. Jordan's research interests include transportation management and planning, traffic safety and enforcement, intermodal freight transport and infrastructure, Cooperative Automated Transportation (CAT), and the mobility of disadvantaged groups. He participates in several professional organizations, including the American Society of Engineers (ASCE), the Institute of Transportation Engineers (ITE), the American Society for Engineering Education (ASEE), and the Transportation Research Board (TRB). Prior experiences include work as a postdoctoral research associate for the Alabama Transportation Institute, an intern at the National Transportation Safety Board (NTSB), and a Trooper with the Maine State Police. Additionally, Gary is a retired Air National Guard Lieutenant Colonel with numerous calls to service, including Operations Desert Shield and Desert Storm, Operation Enduring Freedom, and Operation Iraqi Freedom. His educational background includes an MS in Civil Engineering from the University at Buffalo, an MA in Economics from the University of New Hampshire, an MBA from the University of Maine, and a BS in Engineering Physics from the United States Military Academy at West Point. 
Geng Liu
Dr. Geng Liu
Assistant Professor of Mechanical Engineering
e-mail: gengliu@kings.edu
Geng Liu, Assistant Professor of Mechanical Engineering, earned his Ph.D. and B.S in Mechanical Engineering from the University of Chinese Academy of Sciences and the University of Science and Technology of China, respectively. He has previously worked at the University of Virginia as a postdoc studying the high-performance mechanism of fish swimming and insect flight. He has been involved in a Multidisciplinary University Research Initiatives (MURI) program sponsored by the Office of Naval Research (ONR) for three years. Before joining King's College, he worked at the University of Maine investigating the flow-structure interaction of biological systems. His expertise and research focus are biological propulsion, biological flow sensing, computational fluid dynamics, design of bio-inspired robots and flow sensors.
Tabitha Sprau Coulter
Dr. Tabitha Sprau Coulter
Associate Professor of Civil Engineering
e-mail: tabithaspraucoulter@kings.edu
Tabitha L. Sprau Coulter, Assistant Professor of Civil Engineering earned her Ph.D. and M.S. in architectural engineering from the Pennsylvania State University and completed her undergraduate studies at Lafayette College. Dr. Sprau Coulter previously worked in engineering and energy consulting. She worked as an energy modeler for Reese Engineering and as a mechanical engineer for KlingStubbins. While pursuing her Ph.D., she was an NSF Grant recipient, and she was involved with the Navy Yard Energy Efficient Buildings (EEB) Hub and Consortium for Building Energy Innovation (CBEI). During this time, Dr. Sprau Coulter worked on developing a retrofit user interface for collecting initial building data, and she developed a tool to better align owner goals with energy audit efforts. While at Penn State, Dr. Sprau Coulter also worked for Penn State's Office of Physical Plant. As part of Dr. Sprau Coulter's duties, she developed a standard process for evaluating where Penn State should focus their $2 million energy auditing budget and assisted in standardizing the energy auditing process. At King's College, Dr. Sprau Coulter is currently working with undergraduate research students and the campus sustainability coordinator to identify and implement feasible sustainability initiatives on campus.
Alex Szatmary
Dr. Alex Szatmary
Assistant Professor of Mechanical Engineering
e-mail: alexszatmary@kings.edu
Alex Szatmary, Assistant Professor of Mechanical Engineering, earned his Ph.D. and B.S. in Mechanical Engineering from the University of Maryland, Baltimore County and his A.S. in Engineering from Harford Community College. He has previously worked at the Army Research Lab doing instrument control and material testing; he has also worked at the National Institutes of Health studying white blood cell and cancer cell signaling and motion. Additionally, he currently is studying policies governing engineering education.
Other Contacts
Dr. Kristi Concannon
Program Director, Physics
e-mail: kristiconcannon@kings.edu
Dr. Brian Mangan
Program Director, Environmental Science
e-mail: brianmangan@kings.edu
Dr. Ronald Supkowski
Department Chairperson, Chemistry
e-mail: ronaldsupkowski@kings.edu
Dr. Janine Janoski
Department Chairperson, Mathematics and Computer Science
e-mail: JanineJanoski@kings.edu
Admissions: admissions@kings.edu
Financial Aid: finaid@kings.edu