Monitoring Health Conditions on Campus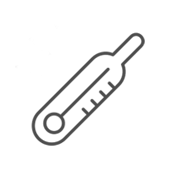 Daily Health Check

Wear a Mask

Physical Distancing
King's Human Resources Director (Regina Corchado) and Director of Student Health Services (JoAnn Kosik) are partnering to monitor health conditions on campus. All students and employees are required to submit their body temperature and a screening questionnaire daily. No touch thermometers are available at various locations across campus for anyone who needs access. Students and employees exhibiting signs and symptoms of illness are encouraged to stay away from campus to slow the spread of all illnesses.  
As a practice, the HR Director and Director of Student Health will meet regularly to discuss the number of illnesses we are made aware of on campus and make a recommendation to senior staff in the event a surge of virus or infection happens.  
Support for Vulnerable Populations
The CDC has provided guidance to certain populations who are at greater risk for severe illness. King's is committed to assisting people who need to take extra precautions to ensure everyone stays healthy. If you identify yourself to be part of one of the higher risk groups, and would like to request an accommodation, please utilize this secure accommodation request form.  
These forms will go directly to Human Resources so we can research and work with you and the management on how we can best support your needs when returning to campus.  
Additionally, our Facilities and Maintenance departments have been working to identify spaces that may need to be modified in order to ensure proper social distancing is attainable. Employees requesting a modification to their physical space should open a ticket using the Facilities Tree resource if you would like to request additional adjustments. 
Students with disabilities requesting ADA accommodations should contact Sheri Yech at 570-208-5800 or sheriyech@kings.edu 
Employees with disabilities requesting ADA accommodations should contact Regina Corchado at 570-208-5968 or reginacorchado@kings.edu 
Absences
King's Human Resources team has reviewed and updated all policies that relate to employee absences. 
Click here to access our employee handbook with policies that address all types of absences.  We are encouraging all employees who do not feel well to please remain off campus.  
Travel Guidelines
The CDC has provided guidance for travelers. If you are planning to travel, please consult the guidelines here. 
King's is committed to keep College travel to a minimum. Meetings, trainings and conferences are to be held virtually where possible. Students and employees who travel for leisure are encouraged to discuss their plans with their supervisor or Human Resources department if they feel self-isolation after travel would be recommended.  
Guidelines on Gatherings
We will utilize the CDC guidelines when considering events and gatherings.  
Class sizes will be limited and we have made some space modifications to ensure proper social distancing is attainable. Based on these CDC social distancing guidelines, in most cases our revised classroom seating capacity has been reduced to about one third of the original room seating capacity. We have also modified larger spaces and conference rooms to accommodate larger classes.  
Internal meetings are limited to no more than 25 employees. Masks must always be worn and a minimum of 6 feet must be maintained if gathering in the same space.  
Local officials have requested we notify them of all gatherings. If you would like to consider hosting a gathering on campus please first reach out to our pandemicofficer@kings.edu for the most up to date guidelines and approvals required.