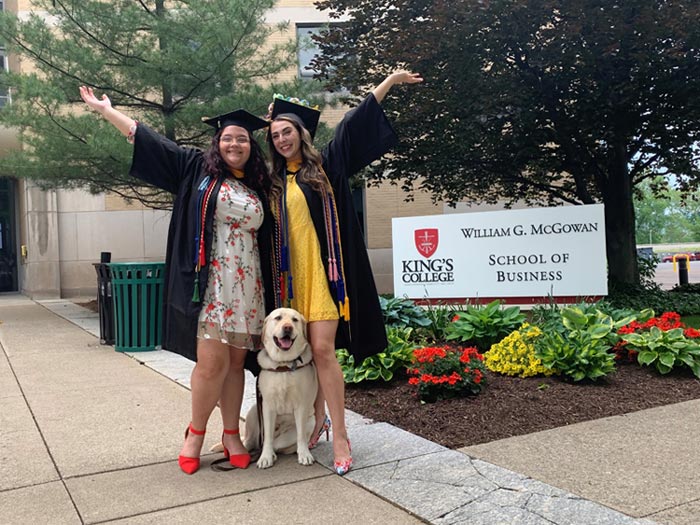 By Brandi George '12
May 26, 2022

For four years, Kayla Penzone's service dog, Kane, was by her side while she pursued her B.S.B.A. in Human Resources Management at King's College. Every step of the way, Kane was there as she listened to lectures, studied, took her exams, and interacted with her professors and classmates across campus.
So, as Commencement approached, the Academic Skills Center—which offers support services that enhance learning and increase retention—felt it would be a special gesture to acknowledge Kane's work in supporting Kayla as she completed her degree.
After the ceremony, Sheri Yech, Director of the Center and Disability Services Coordinator, surprised Kayla by presenting Kane with a certificate honoring his contributions to both Kayla's studies and the great spirits of those they encountered.
"I was definitely surprised," Kayla said. "Dr. Sutzko and I joked about it a few times during class but to see it become a reality was really heartwarming, especially since I would not have earned my degree without their and many others' support!"
Kayla has retinitis pigmentosa (RP), a genetic degenerative eye disease, that leaves her with less than 10% of her peripheral vision. She was paired with Kane through Leader Dogs for the Blind the summer before she started college. Bred for his job, Kane was trained in basic commands for a year and then in specialized tasks for four months. After pairing, Kayla traveled from her home in Carbondale, Pa., to Michigan to train directly with Kane for one month. Since freshman year, he has safely guided her as she moved to and from class and in tasks like finding the door or curb.
"During my final semester, we had a class in the McGowan School of Business at 9 a.m. every Monday, Wednesday, and Friday," Kayla explained. "Kane became patterned to the same classroom and building after the first week, so he always knew, sometimes even without instructions, where we were supposed to be."
And across campus and in the classroom, students, staff, and faculty were always respectful of when Kane was on and off the clock.
"During my first semester on campus, it was a lot of learning for students, staff, and even myself," Kayla added. "Many people were learning about Kane and the different tasks he can do along with the difference between him having his harness on versus not. By the end of freshman year, everyone knew that if he had his harness off, he was free to socialize as a normal pet would."
In doing so, Kane provided an important learning experience to the campus community in showing them how to navigate the boundaries of a working service animal.
"Kane and Kayla were also very understanding of most people's love of dogs," Sheri added. "So, he would be 'let off work' often to allow people on campus to love him as just a cute dog, too!"
As for what's next after graduation, Kayla and Kane will be enjoying their summer with friends and family. Kayla is working full-time for the AAA Auto Club Group as a Senior Talent Acquisition Coordinator, onboarding new employees, collaborating on projects, and developing her career—of course with Kane by her side. With her position completely remote, she hopes by the fall she and Kane can start to travel and explore.
Regardless of where Kane takes her next, Kayla will always remember their home here in Wilkes-Barre.
"Kane and I will be forever grateful to King's College," Kayla remarked. "Having Kane on campus for the past four years has brought me some of the best friendships, mentorships, and lifelong friends with faculty, staff, and students. We are beyond proud to be alumni of King's College, and we cannot wait to come back and visit!"