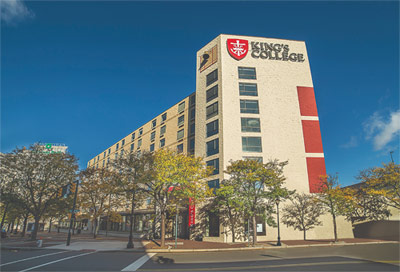 The Alley Center for Health Sciences is the newest housing option offered to students. Located on the Public Square in Downtown Wilkes Barre, the Alley Center is a complete renovation of a former hotel, featuring updated layouts, windows, fixtures, and furniture. The building has the potential to house a total of 39 students in 13 two-person apartments, 8 one-person apartments, 3 one-person ADA apartments, and 3 efficiency rooms.
The Alley Center for Health Sciences features large bedrooms, a private bathroom (2 in two person apartments), and a kitchen/lounge area. The building is also a completely wireless facility, requiring residents' computers and other devices to have wireless capabilities to access the King's network.
The building houses the Physician Assistant program, Athletic Training program, Exercise Science program, and Chick-fil-A.
Other Amenities Include:
Air-conditioning
Connection to cable TV and wireless access to the internet
Twin XL bed, desk, desk chair, dresser and closet for each resident
A bathroom in each bedroom
Built-in dining table and chairs, couch, side chairs and end tables in the living room and kitchen area
Tile floors in the kitchen, bathrooms and bedrooms, with carpeted floors in the living room and hallways
Window blinds throughout the apartment
Housekeeping in all common areas
ID card access to the building and elevators
ADA accessible