Profile of Father Looney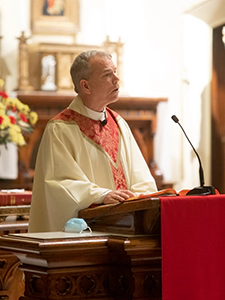 Reverend Thomas P. Looney, C.S.C., Ph.D., made his profession of final vows in the former King's College Chapel of Christ the King in 1986 and has since faithfully served the College's mission as a priest and educator. Having most recently held the roles of Associate Vice President for Academic Success, College Chaplain, and Director of Campus Ministry, Father Looney was named the tenth president of King's College in January 2021.
Born in Brooklyn and raised in Otisville, New York, Father Looney graduated magna cum laude with a Bachelor of Arts in psychology from Stonehill College in 1982 and received a Master of Divinity from the University of St. Michael's College at the Toronto School of Theology in 1986. He began teaching theology at King's College after his profession of vows and was ordained to the priesthood in 1987. Father Looney went on to earn a Doctorate in Theology from The Catholic University of America in 1998.
Father Looney has led retreats for religious, clergy, and lay faithful throughout the United States and in India and Ghana. His extensive service to the local community includes assisting clergy by celebrating Mass in local parishes and at the State Correctional Facility in Dallas, Pennsylvania. His publications have appeared in One in Christ, Ecumenical Trends, Review for Religious, and Pastoral Life.
Father Looney previously served as Provincial of the Eastern Province of Priests and Brothers and as Vice President for Mission at Stonehill College. At King's, he has served as Associate Vice President for Academic Affairs and Dean of the Faculty, and as Associate Professor and Chair of the Department of Theology.
Extending his service to other institutions and nonprofits, Father Looney is a member of the boards of trustees at Stonehill College, RENEW International, Earth Conservancy, and the Father Patrick Peyton Centre in Attymass, County Mayo, Ireland. He is a member of the Congregational Religious Life Commission in Rome, Italy.
Back to Inauguration homepage