Health Sciences Summer Camp at King's College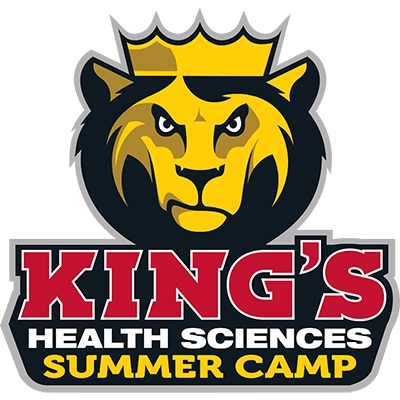 Overnight Campers: Sunday, July 9 - Thursday, July 13, 2023
Daily Campers: Monday, July 10 - Thursday, July 13, 2023
Register now!
Seats are limited. Registration is on a first come first serve basis.
This overnight summer camp will expose high school students who are interested in health sciences to hands-on, dynamic workshops in an array of subjects, including physician assistant, occupational therapy, athletic training, exercise science, nutrition, nursing, chiropractor, and many others. There will also be experiences with topics that support health science careers like chemistry, biology, healthcare management, ethics, neurology, anatomy, and physiology.
Students will learn about the academic and professional requirements, career outlook, and earning potential of these different fields. Taught by active practitioners, students will gain an understanding of the many different careers within the health sciences with a goal to find their perfect path for a college or career!
Check out our Health Sciences 2022 Camp Video Highlight here.
Camp Highlights
Full day of rotated sessions featuring a short informative lecture followed by activities
Small group with 7:1 student to counselor ratio
Training with simulator that students use as healthcare majors
Basic suturing, administration of injections, and full patient assessment
Optional cadaver dissection lab
View Camp Details here.
ASPIRING WRITERS CAMP
Monday, June 12 – Thursday, June 15, 2023
Students will receive quality writing instruction from King's professors in a supportive environment. Students will discuss craft, complete writing exercises, and participate in readings. The cost of the four-day camp is $75. Lunch and snacks will be provided. The deadline for registration is May 24, 2022.
Learn more about the Aspiring Writers Camp here.
Athletics Summer Camps
King's College Athletics offers a variety of day camps and clinics throughout the year, including boys' and girls' basketball and soccer, field hockey, football, softball, swimming, track and field, tennis, and girls' lacrosse and volleyball! All camps and clinics require paid registration. Information on each is released periodically. Please check our
Athletic Camps and Clinics page
to learn more.