From King's College to NASA, Ann Jenkins '87 Finds Her Dream
By Brandi George '12, Assistant Director of Communications & Public Relations


"Houston, we've had a problem." 

Today, the words are ubiquitous, but for some, they still hold significant meaning.

Apollo 13 was only two and half days into its mission when disaster struck. An explosion crippled the spacecraft, and the three astronauts on board lost access to water, power, and their oxygen stores. Worse yet, the three of them had to fit themselves into the lunar module that was only meant for two. For days, the country's attention was fixated as their goal shifted from landing on the moon to survival.

From her home in Nanticoke, Pa., a four-year-old Ann Jenkins sat cross-legged on the carpet in front of her television set. It hadn't even been a year since she sat there to watch Neil Armstrong walk on the moon. Now, she patiently waited to see what would become of the astronauts as they worked with controllers in Houston to return to Earth on April 17, 1970.

Ann was growing up in the most exciting era of the space program, and, as a young girl, she was captivated by the incident. Communications had blacked out just as the ship was re-entering the atmosphere. When their voices were finally heard again and the capsule splashed down in the South Pacific, Ann jumped up with so much energy, she slipped on the rug and split open her chin. Even still, she refused to go to the hospital until she saw the astronauts were okay.

After a tense hour watching swimmers secure the capsule, the three astronauts finally emerged. Only then did Ann and her mother drive to the hospital for stitches in what she fondly calls her "Apollo 13 scar."

Ann wanted to be an astronaut. And, as fate would later have it, she'd spend three decades working for NASA, and all because of King's College.
King's College Launches Ann's Career
Ann's vision of being an astronaut remained strong until high school when she fell in love with words. Beginning to flourish as a creative writer, Ann was also involved on the speech and debate team and participated in the Greater Nanticoke Area High School TV Station providing daily announcements to students and faculty.  

"I envisioned myself as a TV reporter or producer," she said.  "And I even had this fanciful notion that maybe I could be an MTV video producer. It was the early 1980s, and MTV was just bursting onto the scene."

Whatever she did, she added, she believed studying communications could take her somewhere interesting and fun—she just never realized how interesting her journey would be.
Inspired by her uncles who had attended King's College, Ann followed in their footsteps. It had the program she was interested in, it had a great reputation, and it offered her the best deal: a full-tuition Presidential Scholarship.

"Receiving that scholarship changed my life," Ann said. "I would not have been able to go to college without it."

Ann joined the Honors Program and double-majored in English and mass communications with a minor in marketing. Like many students, she developed close relationships with faculty and staff who helped her succeed. One of which was English professor and Honors Program director Dr. Edmund Napieralski who pushed her to get into the Washington Center for a semester internship with CNN.

"The internship was wonderful," she recalled. "CNN was a young network in 1986 and was downtown on Massachusetts Avenue right in the thick of things. They just had their claim to fame as the only network to cover the Challenger launch live, and therefore the only ones to capture the horrific explosion."  

Returning to King's for the last semester of her senior year, Ann wrapped up her studies with her sights set. She worked closely with Dr. Tony Mussari, head of the Mass Communications program, honing her skills and focusing on what she wanted to do after graduation: move back to D.C. and attend the University of Maryland for her master's in journalism. She credits both Dr. Mussari and Dr. Napieralski with helping her get there, and, yet again, with a full-tuition fellowship.

"God bless them both; I can't say enough how much they changed my life," Ann said.
It was like it was always meant to be.
Ann's time at UMD was markedly different than her years at King's. Looking back, she understands the impact of her undergraduate experience.

"King's is so warm and welcoming," she added. "People care about you and take a personal interest in your career. I didn't fully appreciate this until after I graduated."

In 1988, after her first year of graduate studies, Ann realized that despite her fellowship, she wouldn't make it living in the area on her stipend. Figuring she'd work for a PR firm or a TV station, she headed to the UMD Journalism job bulletin board.

Among the listings: Writer, NASA Goddard Space Flight Center.

With her dreams of being an astronaut all but evaporated, Ann hadn't even realized a NASA Center was only two miles from her apartment. She immediately sent in her resume and just as quickly found out she got the job.

"I know luck favors the prepared, but I am so grateful for the opportunities I was given, and it all started at King's. If I didn't get the scholarship or the internship, I never would have found my way to NASA."

Ann started working at NASA for EnviroNET—in the fledgling days of the internet. Here, data about the Space Shuttle environment were stored, including information about the electromagnetic radiation the shuttle traveled through and the effects cosmic rays had on it. For several years, she balanced her studies with assignments writing technical engineering documents until eventually graduating and joining the Hubble Telescope program full-time in January 1994.

"This was a crazy time right after the December 1993 mission that fixed the Hubble Telescope," Ann recalled.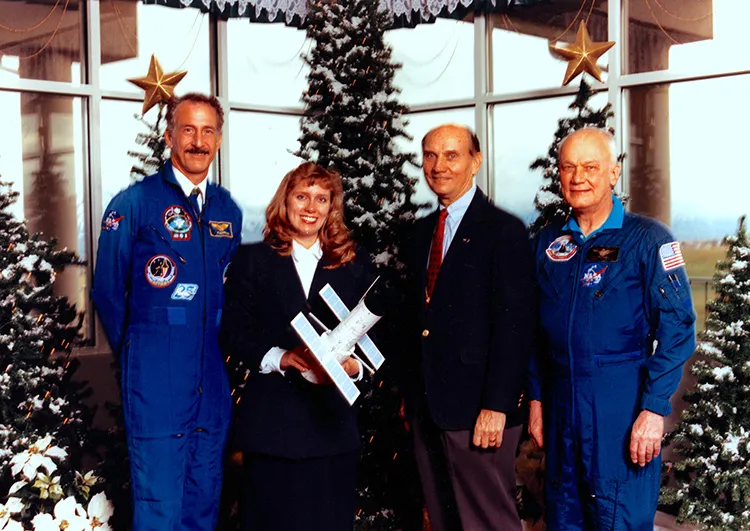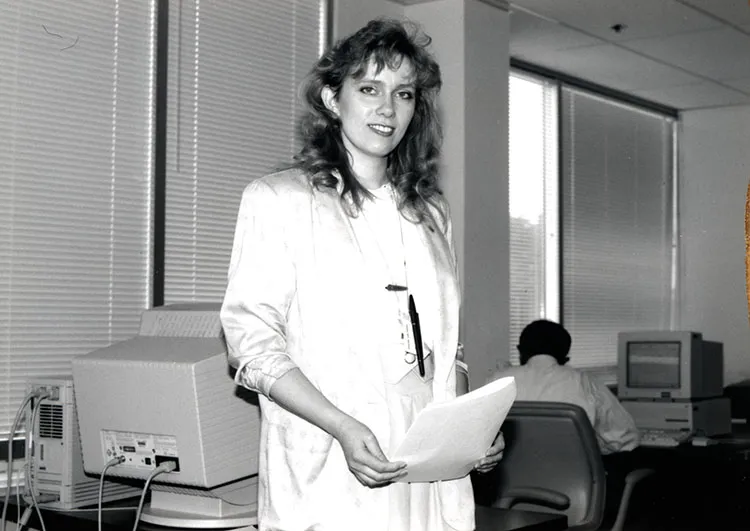 Left, Astronaut Dr. Jeffery Hoffman, Ann Jenkins, Utah Senator Jake Garn, and Astronaut Bruce McCandless II at Hercules Aerospace in Utah in 1995. Right, Ann as a technical writer at McDonnell Douglas in 1992.
Like others, she wasn't sure if this mission would be successful, and it was a big gamble to join Hubble while the new optics were still being checked out. But, as luck would favor her again, the gamble paid off.

Ann spent the next 14-and-a-half years working exclusively on Hubble, shifting her writing to public-facing projects, such as researching and publicizing "technological spinoffs" and writing press releases for NASA's Office of Public Affairs. But after fourteen years as resident writer, she knew the program was soon to be retired and she needed to be prepared for the next chapter. Writing about Hubble gave her extraordinary opportunities and other projects did not captivate her in the same way.

"I've seen five Space Shuttle launches from Kennedy Space Center and three times after caught the next flight to Houston to work in Johnson Space Center's Mission Control," she said. "Still, I couldn't imagine remaining at NASA and working on anything else other than Hubble."  

An opportunity opened at the Space Telescope Science Institute (STScI), a partner organization in Baltimore, Md., that performs the science operations for several NASA missions, including Hubble. Having collaborated with STScI in her own work, Ann knew she could continue working on Hubble while also having more job security. She jumped and left NASA in July 2008.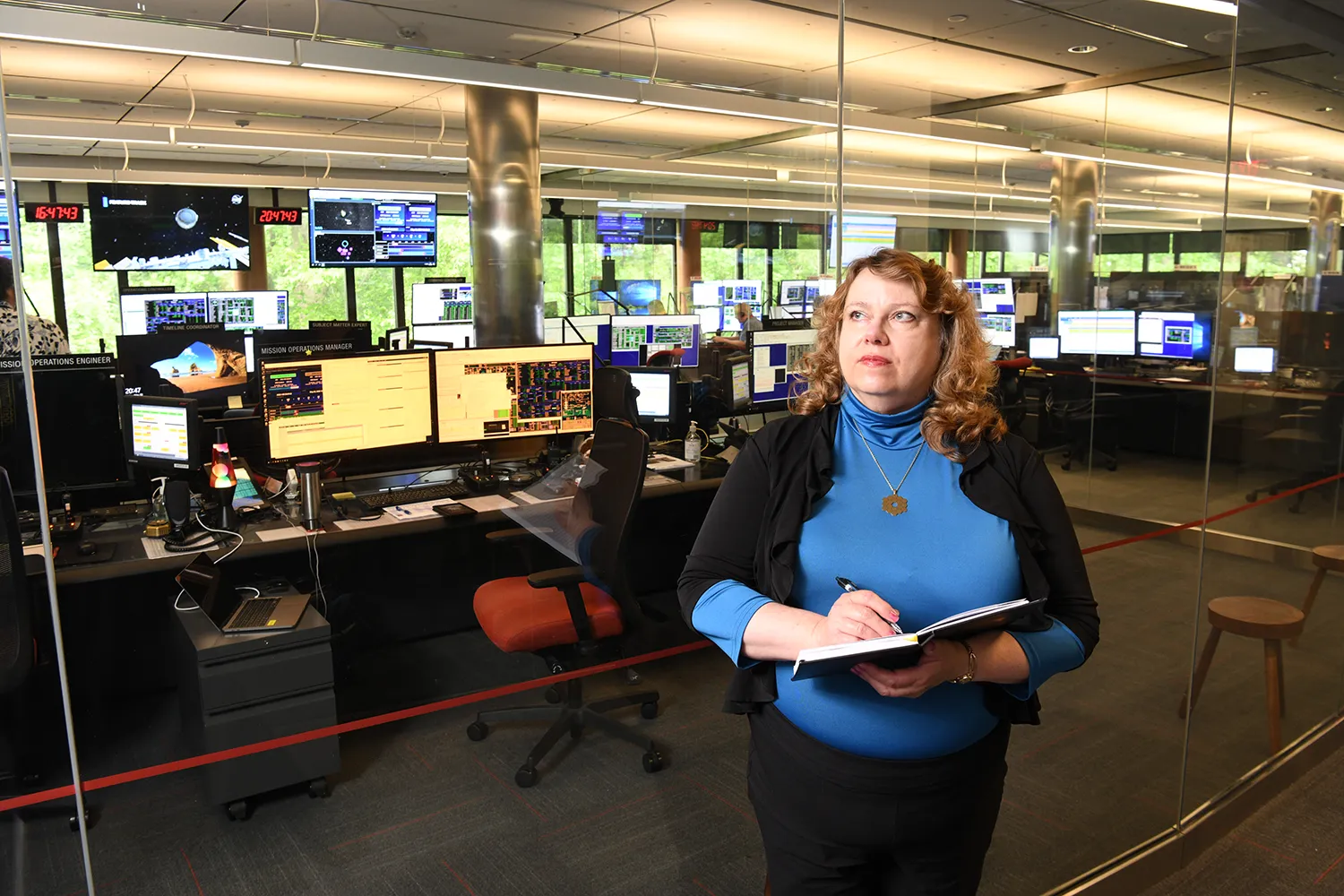 As opposed to working with engineers, Ann was now working with scientists. In her new role, she worked in the Office of Public Outreach writing press releases, stories about scientific projects, and the annual Hubble Highlights book that featured the most interesting stories to come out of that year's data. Today, she continues her work as Principal Science Writer, now also producing social media and website content and gearing up for NASA's latest program: the James Webb Space Telescope, which launched December 25, 2021.

"The Webb launch was the best Christmas present I could ever have," Ann exclaimed.

The telescope has now moved into position about a million miles from Earth—about four times farther than the Moon—and is continually collecting data. As opposed to Hubble—which sees ultraviolet, visible, and near-infrared light—Webb detects infrared light, or heat, farther into the electromagnetic spectrum. Its vision pierces through dust and gas, revealing some of the farthest and earliest galaxies, stars, and objects in the universe for the first time ever.  

In July, NASA released a preview of Webb's impressive work from its first seven months in orbit: four stunning images of nebulas and galaxies, as well as the signatures of water, clouds and haze on a distant exoplanet. Ann was part of a small, core team that first saw the Webb images and worked on the press package that revealed them to the world.   

"It's still hard for me to believe that after years of preparation, Webb is finally exploring the universe!" Ann said. "But it is, and I'm so grateful to be a part of this historic time. Stay tuned—the best from Webb is yet to come!"
How Space Tech Came Down to Earth
Ann's dream—although different from her childhood—is an amazing feat that has left a lasting impact both professionally and personally.

In her early days on Hubble, Ann was writing an article about special charge coupled devices (CCDs), light-collecting instruments that would be installed on the telescope in a future mission. Ann's piece about "space tech coming down to Earth" detailed how, prior to that mission, medical professionals found an alternate use for these special Hubble CCDs in mammography, where they would allow for more precise needle biopsies.   

Her team produced a corresponding video, filmed at UMD Medical Center, where Ann stood in as the patient model for the machine's demonstration. How could she know then that two decades later in 2017, she herself would be diagnosed with breast cancer?

"It turned out that the same technology I wrote about in 1994 was used for my biopsy," Ann remarked.  

This past July marks five years since her diagnosis, and her next chapter as cancer free.

Looking ahead, Ann is excited for the world to see what will follow now that Webb has released its first scientific images. Although not an engineer or astronomer herself, Ann's knowledge and understanding of NASA's telescope programs and data is remarkable. Her energy and passion for space and the work STScI is doing today is palpable, as if she were still the four-year-old sitting on her living room floor.

"Without a doubt, King's College changed the trajectory of my life," Ann said. "Those who go to King's should realize how lucky they are. For anyone thinking about going there, it's a wonderful opportunity that can expand your horizons."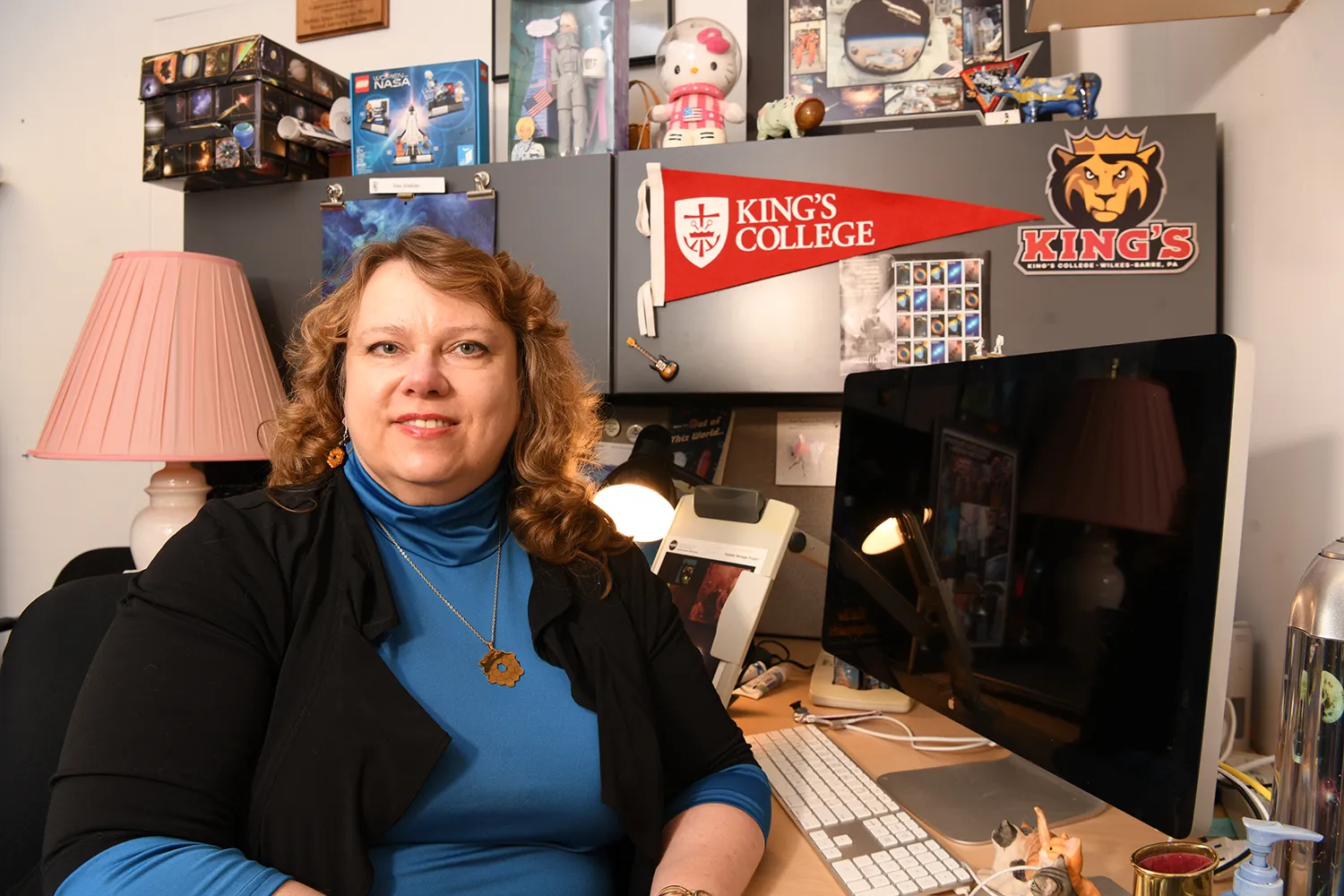 One of the most common questions those in Ann's line of work face is whether there is life to be found elsewhere, and if so, why we haven't found it yet.

"It's my very personal and humble opinion that it's very egotistical to think we're the only ones out there," she quipped. "With billions of suns and planets around those suns, it's sad and mind-boggling to think we're the only ones."

While Webb won't necessarily find life, the technology should show us the chemical biosignatures of plant-like organisms.

"Maybe we're the only ones living at this time but, I think at least at some point there were or will be other civilizations out there," she said.

One thing Ann really believes is that, by nature, humans are explorers who seek to learn and investigate our environment. Ann is confident Webb will push us into new frontiers and places we've never been able to study before, expanding our knowledge about the universe and our place in it.
The following story was published in the 2022 issue of King's Magazine. Read the full digital edition on Issuu now!
Suggested Hubble and Webb Articles