Charles DeCosmo '06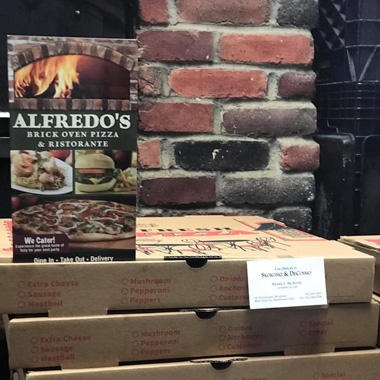 Charlie's law firm, Skokoski & DeCosmo, donated pizza and salads to each floor of the Lehigh Valley Hospital in Hazelton, PA last Wednesday, April 8, 2020. They are planning to continue to help small business and those on the front lines by making more lunch donations in the Hazelton area to those essential workers on the front lines of the COVID-19 fight, such as police and healthcare organizations. 
Jessica Angelene Spino '13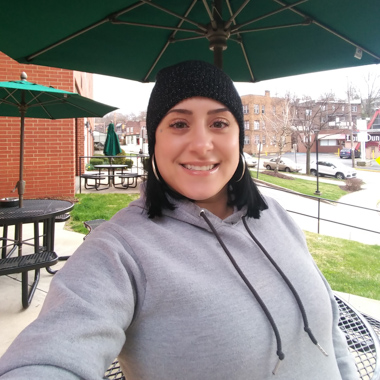 King's College is very special to me. Along my way in senior year I had an abusive boyfriend (my daughter's father), a baby to take care of, and I was trying to graduate. My substance abuse disorder followed shortly after this when I relapsed after being clean for years. No, I wasnt the typical student. I was in my mid 20s when I started at King's and I was part time. I had alot of problems, needless to say, and I had to take some time off during my senior year to get everything straight.
However, I managed to graduate. It was very hard. If it wasnt for Dr. Sosar and Attorney Rich, I'd have never made it. They knew what kind of student I was before my problems became problems, and they worked with me to help me complete my senior year. It was one of the greatest gifts I could have ever received. After school was out, I found out I needed another class to graduate. Dr. Sosar did a class with me online because I was already back in Pittsburgh at the time thinking it was all over!
These are just some of the things i remember from my senior year. I'm doing great now, but I will never, ever forget King's or the Political Science department. What a God-send that department was. They went above and beyond for their students and I was so lucky to have been one of them. Thank you a million times over and again.
Annmarie Tyler '88
Annmarie Tyler '88 is putting her sewing skills to good use during the pandemic. She writes, "Starting 3 weeks ago, I started making masks for the Lackawanna Medical Society /Masked Bandit project. I have sent them 90 masks. I have sent 55 masks to the Masonic Village in Dallas, and have supplied masks to family, friends, and strangers. My total to date is 250+." #KingsCares2020
Jill Kisel MSPAS, PA-C, Community and Physician Assistant Alumni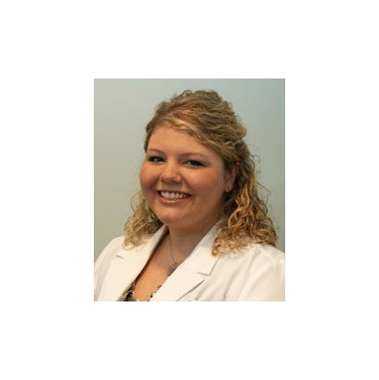 Jill Kisel MSPAS, PA-C, is proud of our Community and our Physician Assistant Alumni. She writes, "Although we are all separated and isolated, I have seen our communities rally together to support each other now more than ever. Feeling the support of my family, friends, neighbors, colleagues and students comforts me and fills me with hope. As clinical faculty in the PA Program, I would like to share how proud I am of all of our King's Physician Assistant Alumni working tirelessly on the front lines, saving lives and treating the sick. Some of these PAs only graduated 8 months ago and are facing unimaginable stress so early in the their career. Please know I pray for you all daily and am thankful for each of you." #KingsCares2020
Jill Patton '19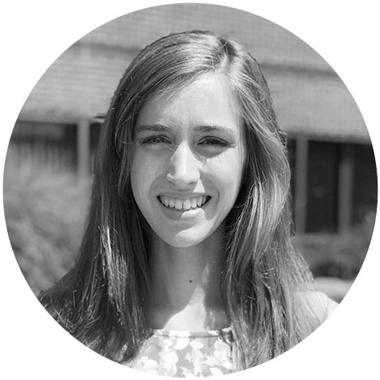 Jill Patton '19 is using her professional skills to help our community during the pandemic. She writes, "DiscoverNEPA is a website that normally promotes attractions and events in Northeastern Pennsylvania. With all the closings and cancellations, we had to completely change our usual coverage and adapt to the community's needs. I'm a content writer, so I've been making blog posts about the ways that people can stay digitally connected to their favorite places in NEPA and support local businesses and nonprofits. We always try to spread positivity, so I'm writing feel-good stories about local people stepping up to help others during these difficult times. We've also developed more community resources, so I've been building webpages for local organizations." #KingsCares2020
Devrin Baynard '19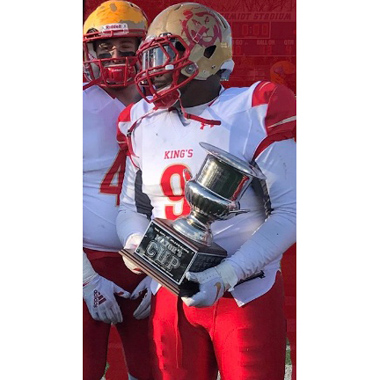 Devrin Baynard '19 is grateful for the friends he made while at King's. He writes, "Trying to balance being a student athlete is a difficult thing. You have to surround yourself with great friends and supporters. Having great friends like Jordan Downes, Xzyla Russell, and Gabe Brown helped me not only becoming a better athlete but a even better student. These guys pushed me to become the best version of myself. Without them college would have never felt the same." #KingsCares2020