Tom Hoskins '15, MS, LAT, COF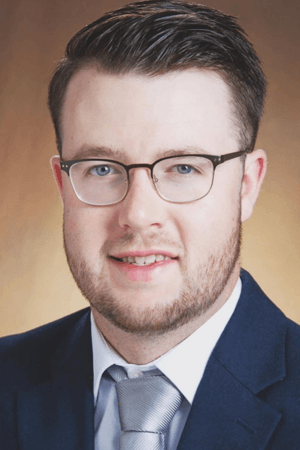 What lead you to pursue a degree in Athletic Training?
I always knew that I wanted to work in healthcare, but I wasn't quite sure what my calling was. I never really knew what exactly an athletic trainer was until I got to King's, but at King's I learned how important athletic trainers are to healthcare. Being able to work with an active population by providing them prevention and care of injuries, emergency care and helping them achieve their goals is truly something that I think other healthcare professions don't experience and is what makes athletic training so special. 
How have you used your degree to reach your career goals?
I have been able to continue my athletic training education in an advanced athletic training masters program at North Dakota State University. King's also provided me with excellent clinical experiences that have allowed me to be the primary athletic trainer for a division one baseball program. 
What did you enjoy the most about your King's AT program?
King's athletic training program taught me not just how to treat injuries but how to treat each individual patient. I enjoyed King's Educational focus on providing patient and evidenced based healthcare. The professors at King's also really challenged [their] students to become the best healthcare professional they can be and made sure that all of our students were prepared to practice as certified athletic trainers.
What advice would you give a student considering the King's College Athletic Training program?
Take in as much information as you can. The professors at King's are some of the most knowledgeable athletic trainers you'll ever meet. I always appreciated the professors being so willing to answer questions I had or pulling me aside to show me a skill that works for them that could benefit my treatment of a patient in the future. I also recommend to form a personal relationship with your classmates. To this day I still call up some of my classmates and ask how they might handle a situation, and that's because of the relationships we formed in class. 
Is there one particular experience as a King's College student that you would like to share with others?
Being able to go to London with PBATS through the school's study abroad program. This experience was second to none, and something I will always remember. I am forever grateful that King's could offer an educational experience like this where we could learn from the best MLB athletic trainers and physicians.  
Is there anything you would like to see changed or improved about the program?
I would love to see the program invite past alumni back to speak about their experiences.