Marguerite Carver '13, ATC, LAT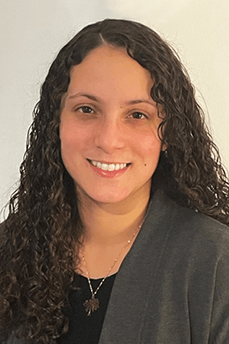 What lead you to pursue a degree in Athletic Training?
I was always an athlete, enjoyed sports, and knew I wanted to get into a profession that involved helping people. King's confirmed for me during my visit this was for me. It was different in that I did not come from a family of athletes or health care professionals, but within my first couple of months at King's, they confirmed I had a supportive family on campus.
How have you used your degree to reach your career goals?
For everything! King's allowed me to pursue a master's degree in science and sports physiology from West Chester University of Pennsylvania. I was awarded a graduate assistantship, which included full tuition coverage. Without King's that would not have been possible.
What did you enjoy the most about your King's AT program?
The most enjoyable is the connections that were formed. We had our instructors in the classroom, didactic setting and then the clinical setting, creating good connections showing us how things learned in the classroom were applicable to the clinical setting. This truly showed us as students that our professors were "practicing what they preach." They showed us what they were teaching in the classroom they utilized outside the classroom with their patients.
What advice would you give a student considering the King's College Athletic Training program?
If you think Athletic Training is for you, don't think twice about King's College. They give you the absolute recipe for success in the Athletic Training Profession. There could not be a more supportive group of faculty and clinical instructors than is offered at King's College.
Is there one particular experience as a King's College student that you would like to share with others?
We had 9 students that graduated with our class. We had such a close class experience. Such a personal experience! I showed up one day to clinical not in the greatest shape on a Saturday morning with professor Janik. That day was probably the greatest day for me in learning my lesson and being accountable for everything I do. He wanted us to succeed. It was a kick in the butt, a kick that I needed, and a kick that has taken me to where I am today.
Is there anything you would like to see changed or improved about the program?
No, I would say that all of Athletic Training and all Allied Professions need to diversify more and the question lingers on how do we do this in all Allied Health Professions.
Please add any additional comments about your experience at King's College.
I believe the slogan King's has: "You learn values of a lifetime." You may chuckle at it but I believe its true. I still have the relationships I built at King's to this day. We stay in contact with the instructors and they are here to help you to succeed even after graduation. We now work side-by-side now for a profession we are all passionate about. Things again have come full circle for me as I introduce my students to my King's professors at conferences, etc.