Kimberly Grande Sovey '08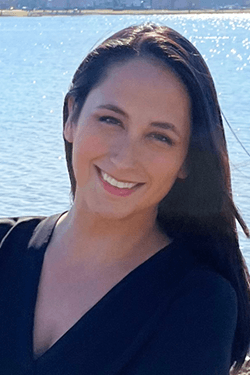 What lead you to pursue a degree in Athletic Training?
What lead me to my degree in Athletic Training while attending King's College was the small class sizes, intimate learning environment and the programs dedication to current evidence based practices while having a strong knowledge base of the core science and anatomy courses. In high school, I was an athlete and had an Intro to Athletic Training course for an elective, and I loved it. I think out of the 8 I graduated with, I am the only one that's truly deviated from the profession ( because of life) and my remaining classmates are still in actual sports medicine.
How have you used your degree to reach your career goals?
After my time at King's, I was inspired to further my education and just be a better person overall because of the passion I developed for the healthcare profession. I continued with my MS in Sports Medicine under Dr. Chad Starkey at Ohio University, upon completion of my MS; I continued with my education and received my DPT with UMDNJ now combined with Rutgers School of Health Related Professions. The strong base I received from King's has allowed me to branch out as a practitioner; I have worked as an ATC at a rural high school to professional sports with the AFL and NFL. I have worked in the pediatrics field and now currently; elderly health care. Right now I am shifting to more of the functional/ neurological side of the body but my orthopedic base is so strong from King's; it's like riding a bike at this point. The strong base of knowledge allows me to jump from specialization to specialization while compiling the techniques I use to carry over for maximal gains amongst each clientele.
What did you enjoy the most about your King's AT program?
The things I enjoyed most at King's were the development of relationships; amongst the professors, classmates that transition to colleagues; the athletes and the friends. I still speak to my classmates and roommates from King's to this day. King's does a great job regarding placement for education and clinical placement dependent on your personality and what you "need". The professors and clinical instructors do a great job not only making sure you'll pass your board exam, but making sure that you have a great knowledge of the "basics" so if you come across something you're not sure of when you're on your own, you'll be able to find the answers or make great educated clinical decision making on your own.
What advice would you give a student considering the King's College Athletic Training program?
Take advantage of everything you can while at King's. You're going to get the best clinicians and educators along with top of the line equipment to use. When you're on your own you might not have the same equipment but you have a strong knowledge base that's going to make you a great clinician. The education King's provides you will allow you to be a strong and independent clinician.
Is there one particular experience as a King's College student that you would like to share with others?
I have no particular experience from Kings that I would like to share as every day provided a new opportunity or situation to learn from. The hands on learning experience you'll receive from King's is bar none and priceless. As a student, I can't emphasize taking advantage of all the opportunities King's provides to you; between the on the field observations, clinical and physician observations; clubs and professional organizational meetings to continue reinforcement of what you learn in the class. You're going to receive a solid education that might require some social sacrifices but is 100% worth it. Take the feedback and criticisms and learn from it. Request it. Don't hesitate to ask any questions to the professors, despite how silly you think it might sound. We all have to start somewhere and King's will set you ahead of the game.
Is there anything you would like to see changed or improved about the program?
Cadaver labs if King's hasn't added that ! A strong course in billing and insurance reimbursement to support the use of ATCs and keeping cost of healthcare down. I don't think the healthcare field does a great enough job educating billing and reimbursements.