Kelsey Rynkiewicz '16, MS, MSHA, LAT, ATC, NREMT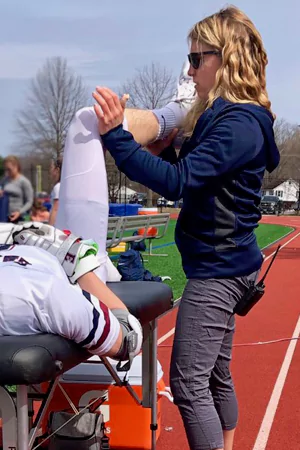 What lead you to pursue a degree in Athletic Training?
Throughout my life, I always had an interest in medicine and the healthcare field. Initially, I planned to attend college and earn a degree in Biology with a future career to be determined. To be quite honest, I did not know athletic training was a profession until attending an open house at King's College. I sat in on an information session and immediately decided it was what I wanted to do for the rest of my life. Since then, I've never questioned this choice and have loved every minute of it. Athletic training combined all of my interests in one: healthcare, helping others, sports and competition, and the opportunity teach and mentor others. I found athletic training to be my true passion and I am forever thankful for finding a career that I love so much.
How have you used your degree to reach your career goals?
My athletic training degree has created more opportunities for me than I ever could have imagined. After graduating from King's in 2016, I attended the University of Connecticut to pursue my MS in Kinesiology. While finishing my degree at UConn, I also enrolled in King's Healthcare Administration graduate program. I completed my MS UConn in the May 2018, followed by my MS from King's in December 2018. I consider myself a lifelong learner and my athletic training degree from King's helped to foster my interest in professional growth and advancing my education further. Currently, I am in the 3rd year of my PhD in Kinesiology at UConn and will be finishing my degree in May of 2022. During this time I have also earned graduate certificates in College Instruction, Public Health, and Healthcare Innovation. All of this would not have been possible without earning my degree from King's. My BS in athletic training provided the foundational knowledge and experience I needed to not only pursue further education, but also the confidence and skills to start practicing clinically as an athletic trainer. My experience at King's very much impacted my end career goals to work clinically as an athletic trainer, to teach athletic training students, to service in an administrative capacity, and to involve myself in professional service. My degree laid the foundation to accomplish all of these things and set me on the right path to achieve all of my goals.
What did you enjoy the most about your King's AT program?
My experience at King's and in the athletic training program was nothing short of an amazing experience. I cannot praise the school and program enough for the experience I was provided while completing my degree. What I enjoyed most about the athletic training program was the care and compassion provided by my professors. My professors were always encouraging, took the time to get to know you as a person, and were always there for support. I still stay in touch with my professors at King's and I know that they are always just a phone call, text, or email away. It was reassuring to have professors who truly wanted to see their students succeed and put student education at the forefront. My professors all served as role models and leaders within the athletic training profession. Their service and commitment to the athletic training profession and their students provided an invaluable experience for which I will be forever grateful.
What advice would you give a student considering the King's College Athletic Training program?
I have one simple piece of advice to give to any student considering the King's College Athletic Training Program: join the program, I promise you will not regret it. The experience at King's is unlike any other. The quality of the education, hands-on learning experiences, professional service and development opportunities, and volunteer opportunities within the community will provide you with the tools and skills you need to be successful. The King's College Athletic Training Program offers a learning environment that is focused on student growth and development that is key to a successful career. At King's and in the Athletic Training Program, you are not just a number. You are part of a community in which the highest priority is your success and the opportunity to achieve your goals.
Is there one particular experience as a King's College student that you would like to share with others?
As a King's College student, the connections and relationships I formed with my professors were a key component to my experience while at King's and beyond. I can say with certainty that I would not have achieved the success I have without the support of my professors. Without them, I would not be where I am today. My professors instilled in me a desire to achieve my goals, to immerse myself in the profession of athletic training, and to give back to the field through professional service. I always know that I can still reach out to my professors whenever I need and that they will always be there to lend support, provide advice, and offer a listening ear.
Please add any additional comments about your experience at King's College.
I have always said that King's College is a special place and will continue to do so throughout the rest of my life. King's affords opportunities to students that they cannot receive elsewhere. King's cares about the student on an individual level and strives for student success.