Cody Lancellotti '16, MS, LAT, ATC, NASM-PES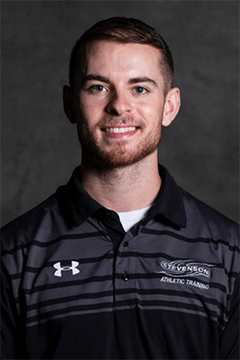 What lead you to pursue a degree in Athletic Training?
After I sustained a knee injury in high school, I had the opportunity to work with my high school athletic trainer. I had no idea what his job was or what it entailed. Originally, I wanted to become a physical therapist simply for the fact that I knew I wanted to help those recovering from injury. When I found out what an athletic trainer did, I immediately switched and knew that is what I wanted to be in the future. They were kind, compassionate, empathetic, hard-working individuals who helped athletes get back to play and recover from their injuries. This was the perfect combination for me, as I loved athletics and I also wanted to practice in the medical field.
How have you used your degree to reach your career goals?
The outstanding educational background I received from King's has provided countless opportunities to further my career in the field of athletic training. King's allowed me to further my education and career goals by attending West Virginia University, where I served as a Graduate Assistant for the Football team as well as the Rowing team. After I graduated from WVU, I worked for Pivot Physical Therapy for two years while getting valuable experience at the high school level. Now, I work at Stevenson University with their Women's Soccer, Women's Ice Hockey, and Beach Volleyball teams. Without my strong foundation I received from King's College, none of this would be possible.
What did you enjoy the most about your King's AT program?
The professors in this program are OUTSTANDING. The education is only one part of this program. When you are in this program at King's, you become a part of a much bigger family. Not only your classmates and current professors, but the alumni as well. Being in a program where your teachers are teaching in the classroom setting as well as the practical setting was very important to me. After learning something new in the classroom, my preceptors would allow me to get the hands on experience and practice in the clinical setting that same day. The staff here is nothing but supportive and will help their students in any way possible.
What advice would you give a student considering the King's College Athletic Training program?
King's College is an amazing program that I guarantee will set you up for success in the future. This program is one of the best in the country, and your time at King's would be nothing short of amazing. Every single staff member will do whatever they can to help you succeed and become the best athletic trainer you can be.
Is there one particular experience as a King's College student that you would like to share with others?
Graduation day was such an amazing experience at King's College. Seeing all of your professors lined up and giving you hugs/handshakes as you went to receive your diploma was surreal. The emotions you see from your professors, who have worked so hard with you over the last four years, was something you will never forget. You understand how much time and effort they have sacrificed for you, so that you can be an amazing athletic trainer, and seeing them proud/happy makes you feel so accomplished.
Is there anything you would like to see changed or improved about the program?
This program is doing everything possible to remain one of the top programs in the state of Pennsylvania. I would recommend getting the younger students more involved with observation hours. It helps the student realize what they are getting into if they are assigned to a team (even if it is for a short period of time.) While at WVU, I realized that the students benefited from being assigned to a team while in their first two years of the program.