Andres Armstrong '17, MS, ATC, LAT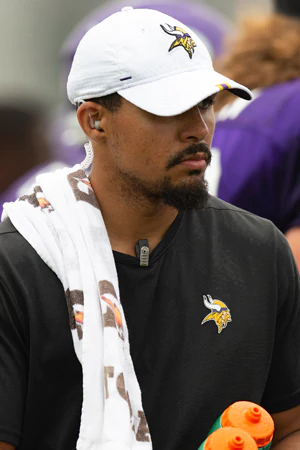 What lead you to pursue a degree in Athletic Training?
Junior year of high school 2011-2012, I was injured during a scrimmage. It just so happened, the athletic trainer treating me was a King's College graduate. I thought my football career was over. He told me to trust him and I trusted him with my injury. He helped me to overcome my injury. His professionalism inspired me to want to help other athletes be the best they could be and to perform to the best of their ability in a sport that they love as much as I love.
How have you used your degree to reach your career goals?
If we look at my track record I have been very fortunate throughout with the connections I made at King's College, straight out of college to work for a NFL team and to come back and work at King's. I have been able to use my clinical skills and best medical practice to continue to build on the foundation that King's has provided me. On top of promoting the King's Athletic Program, my resume speaks volumes to what King's has instilled in me not only as an athletic trainer but as a person.
What did you enjoy the most about your King's AT program?
When I first stepped on campus, Dr. Janik saw me to have potential to be more than just "a trainer." He saw someone who wanted to be a great athletic trainer and who loved the profession and wanted to continue to grow the profession. Ultimately, he challenged me to be the best student athletic trainer I could be. Whether it was being critical of my work or my clinical skills, he always pushed me past my potential. I am grateful for the challenge throughout the entire program and Dr. Janik's motivation and "kick in the butt."
What advice would you give a student considering the King's College Athletic Training program?
APPLY...to this program! I humbly believe this is one of the best programs in the United States and conducive to learning what athletic training is and becoming an athletic trainer. When you look at the program at King's you will see an entire staff of professors and educators who love the profession of athletic training and are excited to develop the next generation of athletic trainers. They are challenging you in all the right ways; and at the same time, loving and caring as much as your own family would be of your decisions.
Is there one particular experience as a King's College student that you would like to share with others?
During the senior football banquet, I was able to share with my classmates that I was going to complete my athletic training internship with the Kansas City Chiefs. The entire banquet hall exploded with excitement for me and provided me with a standing ovation. This was such a humbling experience. I am thankful to all the professors at King's, Without their guidance, this opportunity may have never been. Its a moment in time that is unforgettable and I will cherish forever.
Is there anything you would like to see changed or improved about the program?
I love the program as is!
Please add any additional comments about your experience at King's College.
Over the four years of being an athletic training student and student athlete, I learned just how much King's cares about their students and the family support system they provide. I remember having a conversation with Dr. Janik, we spoke about my childhood, the trials and tribulations I experienced growing up in a single parent home without a father figure to navigate me through the waters of becoming a good man. At the end of those four years, getting ready to walk across the stage I remember embracing Dr. Janik with tears of gratitude knowing without him it wouldn't have been possible to achieve my degree and accomplish what I have accomplished in such a short period of time. The King's College Athletic Training Program has the ability to touch the lives of students entering the program the same way it has for me and countless others.