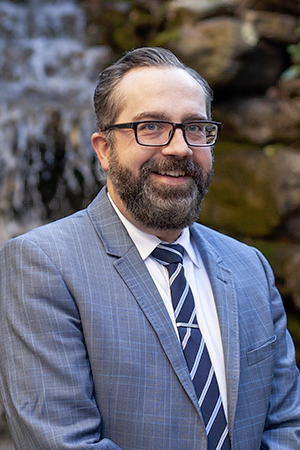 Dr. Matthew Eaton received his PhD in Systematic Theology from the University of St. Michael's College, Toronto, with a Certificate of Specialization in Theology and Ecology from the Elliott Allen Institute for Theology and Ecology. His areas of interest include Ecotheology and ethics and food ethics. His favorite authors include Emmanuel Levinas, Martin Buber and Giordano Bruno. Eaton has written Incarnate Earth: Deep Christology in the Wake of Emmanuel Levinas to be published by Routledge Publishing. In addition, he has co-edited three books including Integral Ecology for a Sustainable World: Dialogue with Laudato Sí, Encountering Earth: Thinking Theologically with a More-Than Human-World, and The Promise of Renewal: Dominicans and Vatican II.
Additionally, Eaton has published numerous articles and book chapters including, "Laudato Sí and Animal Well-Being: Catholic Food Ethics in a Throwaway Culture" in the Journal of Catholic Social Thought; "An-Archy and Awakening: The Ethical and Political Temporalities of Christology and Pneumatology" in Heythrop Journal; "Ecocide as Deicide: Ecological Cruciformity and the Possibility of Hope" in Integral Ecology for a Sustainable World: The Socio-Political Implications of Laudato Sí; "'These are my bodies . . .': Cosmic Christology between Monotheism and Polytheism" in Envisioning the Cosmic Body of Christ: Materiality – Incarnation – Ecology.
Eaton is extraordinarily passionate about extending compassion and justice to the more-than-human world. He is also slightly obsessed with cats, especially his two feline companion animals, Maeve and Maurice. While the Christian tradition has always struggled with the nature and dignity of the non-human world, Eaton believes it is uniquely prepared to not only approach the more-than-human with love but to offer a vision of the world as infused with divinity and thus create a deeper spiritual communion within Earth's many communities. The vision of Jesuit priest, paleontologist, and philosopher Pierre Teilhard de Chardin summarizes well Eaton's passion: "To present the Christian God as . . . external to and (even quantitatively) less than, nature, is in itself, to impoverish his [sic.] being." While not the only path toward overcoming the tenuous relation between humanity and Earth, such a Christian vision has a strong role to play in bringing about a deeper love and spiritual communion with our world and its inhabitants – animal, vegetal, elemental, or otherwise.