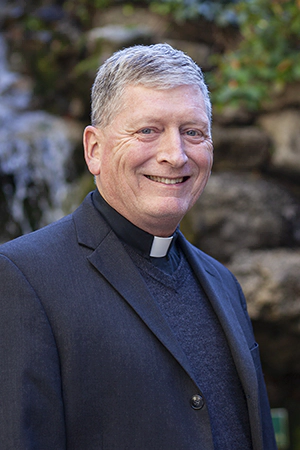 Fr. Russ McDougall, CSC, originally from northwestern Indiana, studied at Notre Dame University, Hekima College in Nairobi, Kenya, and the Pontifical Biblical Institute (the Biblicum) in Rome. He made final vows in the Congregation of Holy Cross in 1990 and was ordained a Roman Catholic priest in 1991. He has served in parochial ministry at Holy Cross Parish in Nairobi, Kenya and as formation director, academic dean and lecturer in Old Testament at the Queen of Apostles Philosophy Centre in Jinja, Uganda. While at the Biblicum he was a frequent guest preacher in Anglican and Methodist congregations in Rome and Bologna, also collaborating in the programs of the Anglican Centre in Rome. From 2014-2020 he served as rector of the Tantur Ecumenical Institute in Jerusalem, where his ministry focused on promoting ecumenical and interfaith dialogue and engagement among Christians, Jews, and Muslims. Since the fall semester of 2020 he has served as lecturer in theology and campus minister at King's, as superior of the local Holy Cross community on campus, and is a member of the Wyoming Valley Interfaith Council.
In Biblical studies he is a disciple of Luis Alonso-Schökel, SJ, an exegete of Spanish and German origin whose work bridged literary and historical lines of inquiry. His academic work has focused on Biblical narratives as works of art that invite those who enter them into an experience, and from that experience to form judgments regarding the artwork's truth value, judgments that ultimately impact decision.
In music his tastes are eclectic, from classical to folk to pop (Gustav Mahler, John Tavener, Francis Cabrel, Madredeus, Loreena McKennitt, Styx, 10,000 Maniacs). Favorite poets and authors include W.B. Yeats and Patrick Kavanagh, Buchi Emecheta and Annie Dillard. Exploring matters of faith with others who have experienced the living God makes theology a passionately engaging discipline for him.