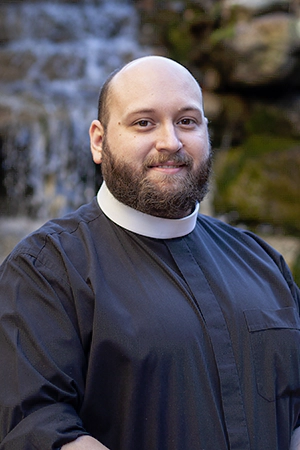 Rev. Bruce Gowe considers King's College to truly be a beloved community. A minister in the United Methodist Church until 2019, Gowe has since become an Episcopalian, and was ordained to the transitional diaconate and is now in the process of being ordained to the priesthood. In this season of change, Gowe has discovered that God has given him another vocation in teaching, and since the fall of 2018, has been calling King's home.
Gowe pursued his undergraduate degree in Religious Studies at Marywood University, where he also teaches courses in Introduction to the Bible, Contemporary Protestantism, and Modern Belief. He also holds a Master in Divinity from Wesley Theological Seminary, with a focus upon Pastoral Ministry.
Gowe's professional interests, in class, and on campus, and in the church, include racial and social justice work, black and feminist liberation theology, and interreligious and ecumenical dialogue. He has written and preached a volume of homilies and sermons. Gowe regularly teaches New Testament Biblical Studies and topics in Systematic Theology.
Gowe finds being with family and friends to be wonderful. He also enjoys weight-lifting, both for health and for hobby, and his lovely dog, Samantha, brings him great joy. Sometimes, she even makes an appearance on campus.
Finally, Gowe chose to live theology, because it was a vocation, both for my ministry and my teaching. Theology, being part of the liberal arts, helps us to explore and make sense of the society and the universe, wherein we live, and move, and have our beings. It gives us grounding and a firm foundation, teaching and guiding us in how to love our neighbor and to be in community with each other and God. Through the study of theology we truly discover we are more alike in God than we are different.