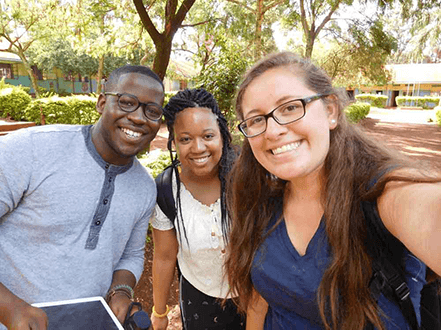 All students should take advantage of the pre-departure advising and orientation offered by study abroad staff. Stay organized and ask questions until you are satisfied that you have adequate answers!
Get to Know Your Program Location
The US State Department offers a vital website for students and parents related to study abroad. You may find the US State Department's Traveler's Checklist helpful. Additionally, the King's College Corgan Library offers access to a number of news sources internationally through "Newstream."
Information for Semester and External Summer Program Attendees
Insurance
Students must have international health insurance when traveling internationally. Check to see if medical insurance is provided by your study abroad program. If international health insurance is not provided through your external program, you will need to purchase coverage through the King's College Office of Study Abroad.
Housing Abroad
Students participating in semester and external summer programs are responsible for signing up for and paying for housing in the study abroad location. Your study abroad program will give you clear instructions on the housing process. With our semester and summer abroad programs, accommodation varies from residence halls, to apartment-style living, to homestays with local families. Some programs only offer one type of housing option; be sure to discuss your interests with your Study Abroad Advisor.
Transcripts
You must arrange for your transcript to be sent to King's College. The address for the transcript is:
Registrar's Office,
King's College,
133 N. River Street,
Wilkes Barre, PA, 18711, USA
The electronic address is registrar@kings.edu. In order to receive expected credit allocation, you are required to have had the "Off Campus Study Form" signed by your faculty advisor. The Office of Study Abroad can be of assistance with this process.
Housing Upon Return to King's
If you plan to return to on-campus housing after study abroad or if you plan to vacate your dorm room for spring semester, it is your responsibility to submit the "Residence Life Form for Study Abroad" to the Office of Residence Life before you depart for study abroad. For further information, contact the Office of Residence Life.
Registration for King's Courses
If you submitted the "Off Campus Study Form" to the King's Registrar, you will be on the list to receive email notification from the Registrar's Office inviting you to register for future King's College classes during your semester abroad. Semester study abroad students will receive priority King's course registration during the King's College registration period. Pay close attention to your email; make sure that you communicate with your faculty advisor in advance and have your list of preferred courses ready.
Library Resources
You will continue to have access to your email and Corgan Library electronic resources during your term abroad.
Voting While Abroad
Don't forget to register to vote in your US elections. For an absentee ballot consult the Federal Voting Assistance Program.