Upon a student's successful completion of the program of study in the William G. McGowan School of Business, a Bachelor of Science in Business Administration (B.S.B.A.) degree is awarded. Within the program of study students may select from the following majors: Accounting, Marketing, and Management with concentrations in Business Administration, Entrepreneurship, Finance, Health Care Management, Human Resources Management, and International Business Management.
King's accounting majors learn the skills necessary for success in a dynamic global business environment. The college core curriculum, business foundation courses, and major courses emphasize personal values, good character development, and the development of the whole person.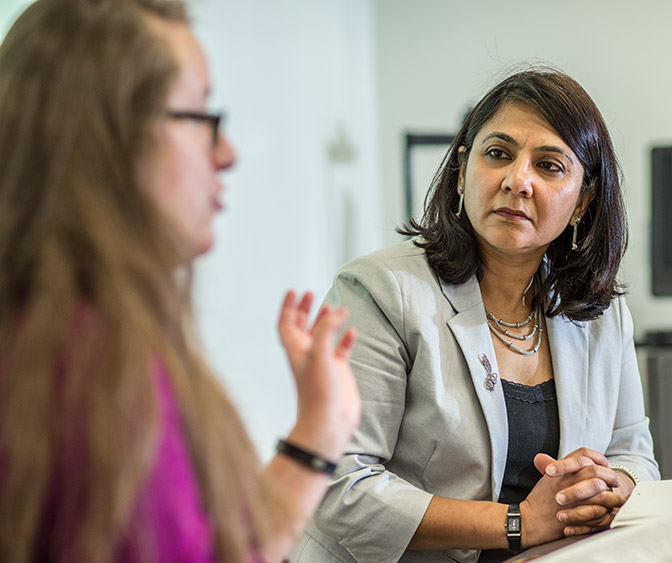 The marketing major is designed to provide an understanding of business and marketing concepts within the context of a varied curriculum. The primary objective is the development of analytical and communication skills and a detailed understanding of the different aspects of the field of marketing and marketing's role in business. The major prepares students for positions in advertising, brand management, media, marketing research, retail management, fashion merchandising, event planning, social media/internet marketing, sports marketing, and professional sales.
The management major at Kings College provides an extensive background in business; the major requirements emphasize the fundamental principles of business management along with the entrepreneurial and global aspects of business required of a business professional. The management major is provided with a thorough foundation in the fields of accounting, economics, computer systems, finance, law and the quantitative aspects of business. Through the selection of a concentration of study, a management major can achieve a major in Management along with a concentration in Business Administration, Entrepreneurship, Finance, Heath Care Management, Human Resources Management, or International Business Management. Utilizing the elective courses a student can achieve a double concentration, double major or minor from the other majors in the McGowan School of Business or the College of Arts and Sciences.